An 18-year-old took the NA region by storm in Week 4 of the League of Legends Championship Series (LCS).
Tony "Instinct" Ng quickly made a name for himself by securing his first pentakill in a match against FlyQuest during his LCS debut week.
TSM Instinct gets a pentakill on Zeri against FlyQuest
At the 26-minute mark, TSM was on Soul Point and looked to contest the Hextech Drake. S0ul's Gnar tried to flank from south of the Drake pit, while the two teams traded blows in the river, but was immediately caught by four FLY members.
Now a man down, TSM persevered and focused their efforts on taking down Zaqueri "aphromoo" Black's Nautilus. While aphromoo managed to buy time with his Stopwatch, Huang "Maple" Yi-Tang's Swain zoned out the rest of FlyQuest from attacking TSM's backline with Demonic Ascension.
With both crowd-control ultimates of Philip "Philip" Zeng's Sejuani and Nautilus already used earlier in the fight, TSM knew that the remaining FlyQuest members could not lock down their carries. As soon as aphromoo came out of stasis, TSM Instinct's Zeri quickly executed him to commence his killing spree.
As Mingyi "Spica" Lu's Xin Zhao and Maple led the charge, Instinct stayed in the backline and rained bullets over the remaining enemies. Once he got the first three kills, the rest of TSM immediately dogpiled the last two opponents so that he could secure the prestigious pentakill.
By 31 minutes, Instinct and his squad stormed the enemy base from all three lanes and claimed the victory.
---
---
---
The TSM player addresses the haters in a post-match interview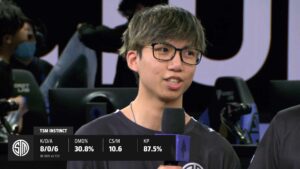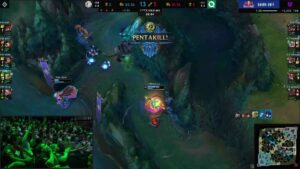 The dominating win finally breaks TSM's 4-game losing streak and keeps their hopes of an LCS Summer playoff run alive. The team is currently in eighth place out of 10 teams with a 3-6 record.
During the post-match interview, Instinct believed that their past results don't really speak for who they are as a team. "There were a lot of doubters and haters against us in my opinion, so we proved them wrong," he said.
As for the incredible highlight, the 18-year-old said that the team had a substantial gold lead that allowed them to go for kills. Even though he believed that s0ul "inted" at the beginning, he found the angle for a potential pentakill as the fight continued.
The LCS celebrated the stellar pentakill by tweeting about another big moment in TSM's history. Just like Instinct, former TSM ADC Jason "WildTurtle" Tran picked up a pentakill on his debut week back in 2013.
The 18-year-old found his way to the big league after a substantial roster shuffle between TSM's LCS and Academy rosters. Following the stepping-down of top laner Heo "Huni" Seung-hoon, Cheng "S0ul" Luo took over the top lane while Instinct and Jonathan "Chime" Pomponio were slotted in the AD carry and support roles respectively.
TSM will face 100 Thieves only July 24 at 7:30 a.m. GMT+9 | 6:30 a.m. GMT+8 | July 23 at 10:30 p.m. GMT | 3:30 p.m. PT. Fans can catch the LCS Summer Split 2022 on the official LCS Twitch channel.
Follow ONE Esports on Facebook and Twitter for more LoL news, guides, and highlights.
READ MORE: Huni steps down from TSM roster due to recurring injury, Shenyi leaves