Long-running North American organization TSM are currently in 10th place in the LCS Spring 2022 season after a disappointing start.
Even though the team benched Chinese support Wei "Shenyi" Zi-Jie after Week 2 and promoted Wang "Yursan" Sheng-Yu from the academy team, results have not improved.
Shenyi made comments after his benching, alleging that the team didn't seem to trust his shotcalling. Since jungler Mingyi "Spica" Lu is currently the team's shotcaller, fans thought he was responsible for forcing his support out of the team, and turned their ire towards him on social media.
However, he has refuted these allegations in a tweet, saying that none of the players were involved in Shenyi's benching.
In fact, he said the team had actually agreed that Shenyi would shotcall after Week 2, when the team went 0-4.
---
---
TSM Spica: 'The narrative has gotten out of hand'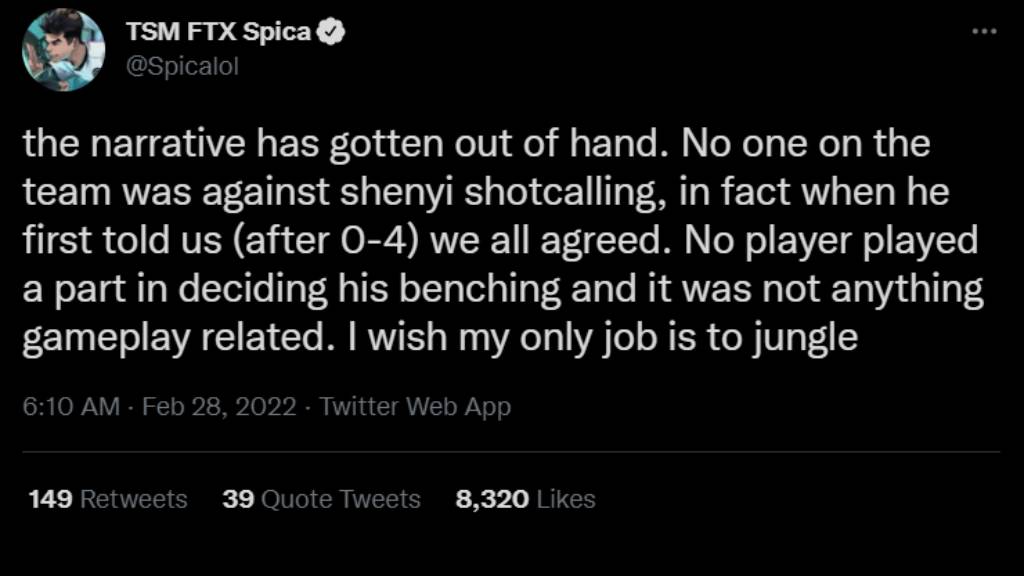 "No one on the team was against Shenyi shotcalling, in fact when he first told us (after 0-4) we all agreed," he wrote in the tweet. "No player played a part in deciding his benching and it was not anything gameplay related."
Shenyi replied to the tweet with a GIF of Dwight Schrute and Tobey Dawson from The Office shaking hands.
Former TSM player and coach Soren "Bjergsen" Bjerg went on to defend the TSM jungler on Twitter, noting that "no one has full context [of the situation] except for the people on the inside." Bjergsen also called out the "scapegoating" by fans based on two clips online about the team's communications.
Head coach Wong "Chawy" Xing Lei recently said in an exclusive interview with ONE Esports that the former LDL support has been proactive in communicating with bot laner Edward "Tactical Ra.
TSM's next LCS game is against FlyQuest on March 6, 6.30 a.m. GMT+8 | March 5, 2.30 p.m. PT | March 5, 10.30 p.m. GMT. Watch them live on the LCS Twitch and YouTube channels.
READ MORE: C9 Fudge on LS's release: 'It's probably the best outcome for all parties'