Top laner Heo "Huni" Seung-hoon will be stepping down from TSM's main League of Legends roster due to recurring wrist injuries, the organization announced today.
He will instead be assisting coaching staff for the remainder of the 2022 LCS Summer Split, working alongside head coach Wong "Chawy" Xing Lei.
Academy support player Wei "Shenyi" Zi-Jie, who joined the team in Spring from China's League of Legends Development League (LDL), is also leaving. Formerly on the main TSM roster, he was moved to their academy roster after two months in February 2022.
His last game with TSM's academy roster was in Week 4 of the 2022 NA Academy League Summer Season, when the team lost against Dignitas Academy on July 1.
---
---
Huni will be replaced by Soul for the remainder of the 2022 LCS Summer Split, while Shenyi returns to China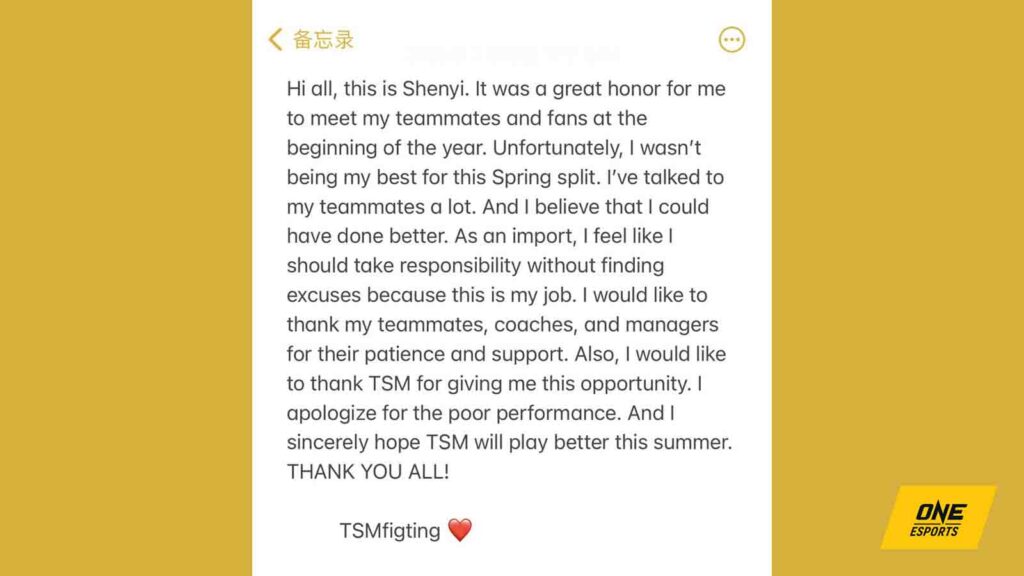 Huni's position on the coaching staff is a temporary one as he "continues to evaluate his future," TSM said in their announcement on Twitter. "We will support him in whichever path he chooses going forward."
According to TSM FTX assistant general manager Yang "Glen" Po-Jen, who elaborated on the team's roster decisions in the TSM subreddit, Huni had expressed a lot of interest in helping the team with picks and bans, drafts, and developing academy top laner Cheng "Alex" "S0ul" Luo, who will replace him on the main roster.
Glen also explained that Shenyi "became demotivated and did not meet expectations" when he joined the academy team and did not shotcall despite being a support player, turning into a "liability."
TSM's academy roster currently sit in last place in the league, holding a 4-16 game record in the 2022 NA Academy League Summer Season.
Current TSM support Choi "Mia" Sang-in has a larger champion pool and is overall a better player, which earned him the LCS starting spot, Glen added.
In his parting message on Twitter, Shenyi thanked his teammates, managers, and coaches for their support, and admitted that he had a lot to improve on. "As an import, I feel like I should take responsibility without finding excuses for my job," he said.
Additionally, bot laner Edward "Tactical" Ra will be moving to the academy roster due to "ongoing performance and personal issues". Tony "Instinct" Ng will be promoted to take his place on the main roster.
TSM LCS Summer 2022 roster
Cheng "Alex" "S0ul" Luo (top)
Mingyi "Spica" Lu (jungle)
Huang "Maple" Yi-Tang (mid)
Tony "Instinct" Ng (bot)
Choi "Mia" Sang-in (support)
Huni first joined TSM for the 2021 LCS Spring Split after spending almost two years with Evil Geniuses. He has been competing in the LCS since 2017, following SK Telecom T1's 3-0 loss to Samsung Galaxy at the Worlds 2017 final in China.
READ MORE: From PCS to LCS: How Chawy had to change his coaching style in TSM