The League of Legends Pro League (LPL) is celebrating its 10th anniversary this year. China's official league kicked off in 2013, and has grown to become the biggest esports franchises in the world, hosting 17 teams compared to other major regions that are capped at 10.
As part of its celebrations, a panel comprising LPL crew and four members of the public had voted. Each person could select up to 10 players, according to LPL's tweet.
Out of the 322 voters, 270 valid voters participated in the exercise.
---
---
Here's the full list of top 10 greatest LPL players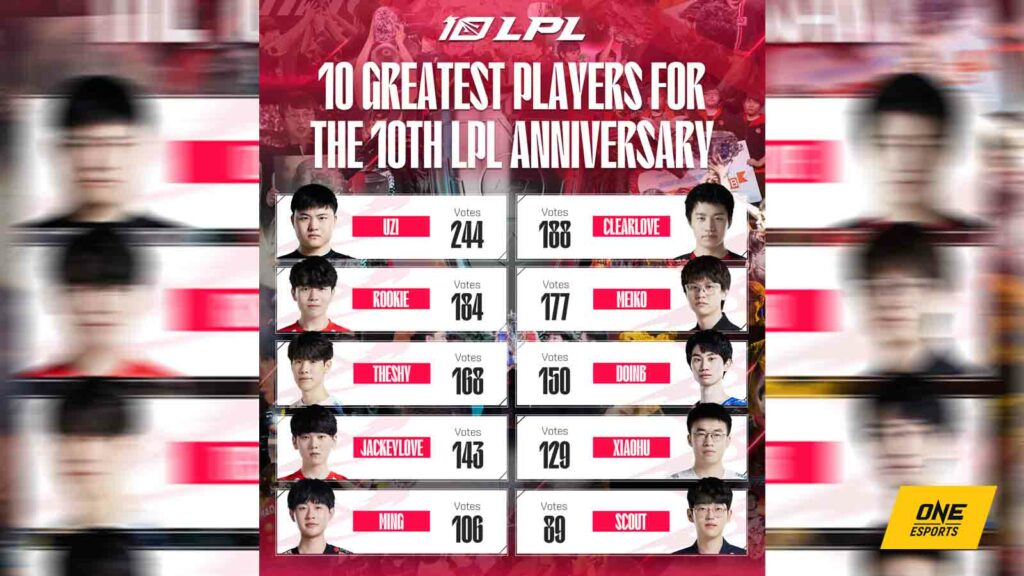 Legendary AD carry Jian "Uzi" Zi-Hao received the most number of votes (244). He competed professionally since late 2012 with Star Horn Royal Club. They made waves internationally when they qualified for the Worlds 2014 final alongside Samsung White.
Losing 1-3 and finishing second, Uzi kept striving with Royal Never Give Up in subsequent years in a quest to take home the coveted Summoner's Cup. However, he never came as close as he did in 2014.
In 2018, he won MSI 2018 alongside support Shi "Ming" Sen-Ming and mid laner Li "Xiaohu" Yuan-Hao — who were also voted into this list — after they edged out G2 Esports 3-2 in the final.
Uzi retired after Worlds 2019 due to injury, and attempted to make a comeback with Bilibili Gaming in 2022, but it did not work out. He's currently livestreaming fulltime and taking care of his newborn son.
Out of these top 10 players, two are retired, namely Uzi and former Edward Gaming jungler Clearlove. The rest are still active players competing in the league.
Former FunPlus Phoenix 2019 World Champion and LNG Esports mid laner Doinb took a break this season and has been co-streaming instead.
Three members of the World 2018 Invictus Gaming championship roster are present on this list: Rookie, TheShy, and JackeyLove.
Watch the LPL live on its official Twitch and YouTube channels.
Follow ONE Esports on Facebook and Twitter for more LoL news, guides, and highlights.
RAED MORE: Faker's full list of podium finishes throughout his 10-year League of Legends career