The League of Legends Mid-Season Invitational (MSI 2022) held offline at Busan, South Korea, saw an impressive day one performance from VCS representatives Saigon Buffalo Esports in the opening match.
The underdog team locked horns with LCK's T1 in Group A, and surprised when bot laner Nguyễn "Shogun" Văn Huy on Tristana secured first blood in the first two minutes of the game. By the 5th minute, he had three kills and a 300 gold bounty.
Even though Saigon Buffalo eventually succumbed to T1 in the mid to late game and lost, their early game pressure was enormous, and definitely commendable.
Saigon Buffalo's Shogun secures first blood on Gumayusi in the first match of MSI 2022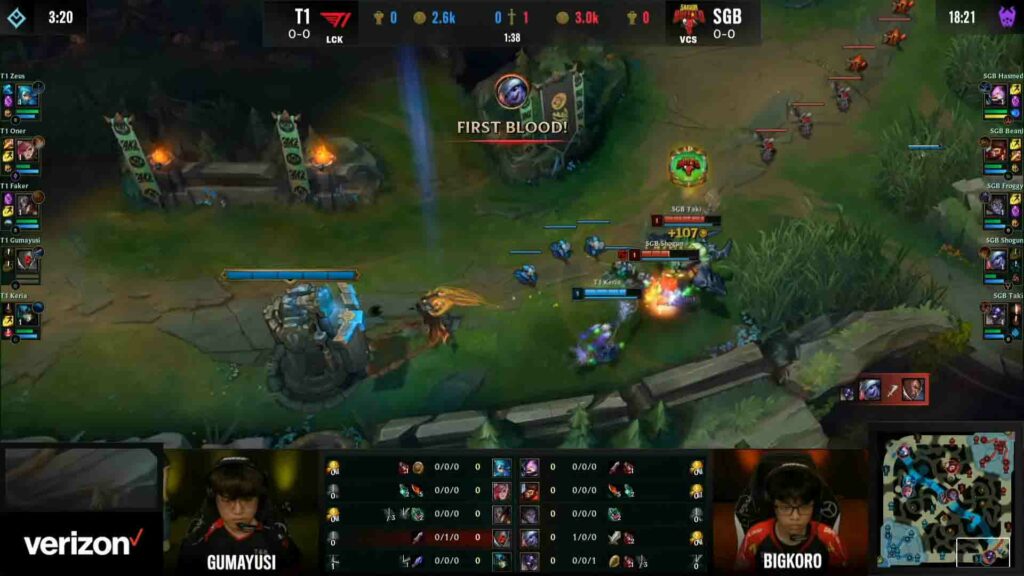 Saigon Buffalo's bot lane duo of Shogun and Đinh "Taki" Anh Tài were the masterminds behind the lightning-fast play. Taki's Allistar led the skirmish by scouting out bot lane's bushes with a Sweeper Lens.
Spotting both Ryu "Keria" Min-seok and Lee "Gumayusi" Min-hyeong inside one of the bushes, the Alistar player immediately flashed in with Pulverize to knock up both players. Shogun's Tristana followed with a few auto attacks and an Explosive Charge on Gumayusi's Lucian.
---
---
Gumayusi was looking to retreat after Exhaust was casted on Shogun. He flashed towards his turret, but the SGB ADC had his sights locked on the Lucian player. After closing the gap with his own Flash and triggering Explosive Charge, Shogun landed two more auto attacks to draw first blood at MSI.
It was clear that Shogun knew Tristana's limits and power, for this champion has high burst damage from level one to three. When combined with Alistar, the duo totally caught T1 by surprise.
The VCS representatives showcased an aggressive playstyle against a top squad like T1, making them a must-watch team for the days to come.
Saigon Buffalo will face DetonatioN FocusMe on May 11 at 7 p.m. GMT+9 | 6 p.m. GMT+8 | 10 a.m. GMT | 3 a.m. PST. You can catch the action on the official YouTube and Twitch streams.
Follow ONE Esports on Facebook and Twitter for more LoL news, guides, and highlights.
READ MORE: Young and hungry bot laners you should pay attention to at MSI 2022