Riot Games and content creator Jeremy "Disguised Toast" Wang have teamed up to launch NA Legends Invitational.
Esports players from the League Championship Series (LCS) and the North American Challengers League (NACL) are going head-to-head with renowned League of Legends streamers. The two-day showdown features a US$10,000 prize pool.
---
---
Disguised Toast's NA Legends Invitational unites LCS pros and personalities on one stage
In addition to winning money and bragging rights, the winning team will also get special Vi gauntlets made by Hoku Props, a cosplay and prop-making team, just for this championship. These gauntlets will have the names of the winning players engraved on them.
NA Legends Invitational team captains
William "scarra" Li
Hammoudi "Moe" "Yassuo" Abdalrhman
Zaqueri "Aphromoo" Black
Zachary "Sneaky" Scuderi
NA Legends Invitational schedule
All four captains will draft their teams on Sunday, September 3, with casting provided by Clayton "CaptainFlowers" Raines and Isaac "Azael" Cummings-Bentley.
About two weeks after the draft, the tournament will commence on September 16 to September 17.
Where to watch NA Legends Invitational
Fans can watch the invitational on Disguised Toast's Twitch channel.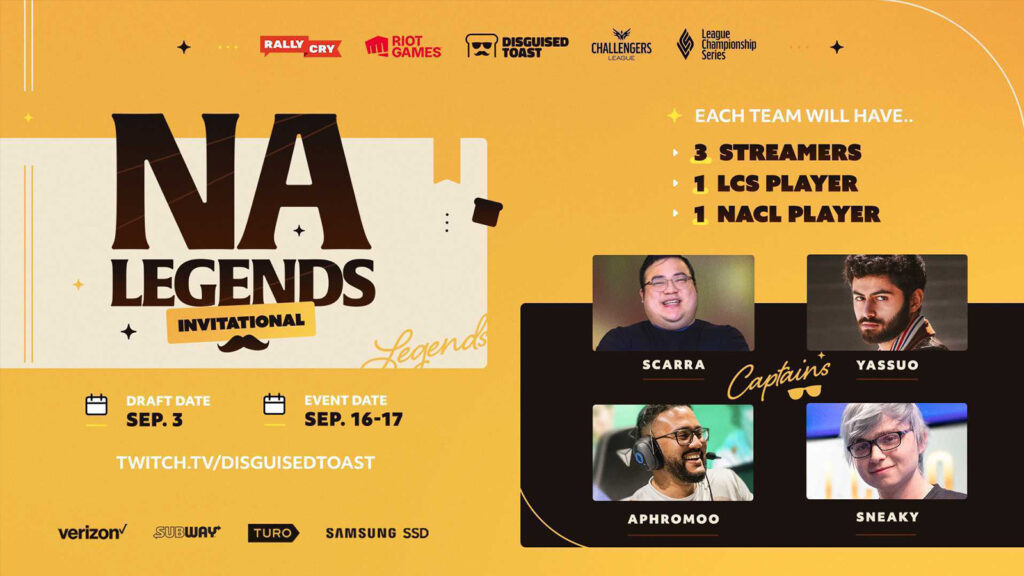 "I've always been a fan of League of Legends esports so this past year as a new team owner, for me, has been very fun and rewarding (although challenging at times)," said Disguised Toast in a press release. "I'm really honored to have the opportunity to host this event with Riot — the players we've invited I've personally been a fan of and have grown up watching. This event is a unique opportunity to bring the entire community together so hopefully everyone can enjoy the show whether you're a new or old fan of LoL."
Disguised Toast is a Taiwanese-Canadian gaming content creator, streamer, and internet personality. He gained fame through his engaging and entertaining content related to various video games, most notably Hearthstone, League of Legends, and Among Us. He is a member of OfflineTV, a popular group of content creators based in Los Angeles, California.
In 2022, he founded his very own esports team Disguised (DSG), which currently has teams competing in Valorant, Apex Legends, and League of Legends.
Follow ONE Esports on Facebook for more League of Legends news, updates, and guides.
READ MORE: You'll never guess how much money MrBeast makes — and how much he loses in a single video