Kim "kkOma" Jeong-gyun will stay on as Korea's Asian Games 2022 League of Legends head coach, despite initially expressing the desire to resign from the post last Thursday.
He cited issues with KeSPA, the organization in charge of Korea's Asian Games 2022 team, as the reason for wanting to step down.
However, KeSPA has settled on new terms in order to convince him to stay. In an announcement yesterday, it confirmed that he will continue as head coach.
---
---
KkOma to remain as Korea's Asian Games League of Legends head coach after all
Last Thursday, kkOma and KeSPA held a press conference where the coach criticized the organization's scheduling and player selection process, saying that he had been constantly trying to push back against the players' packed schedules.
10 players had been shortlisted for the roster, and six of them were to be selected to represent Korea in September, following a boot camp in Gwangju and an exhibition match. The boot camp was eventually reduced to just two days from the original seven, while the exhibition match was postponed indefinitely and will not be played in front of a crowd.
KkOma said he did not want the players to be tired out by the hectic schedule, especially right before MSI 2022. Five of the shortlisted players are also from T1, who are playing at the Mid-Season Invitational next month.
He announced his intention to resign on his stream later that night. In response, KeSPA said that it would do everything it could to get him to stay.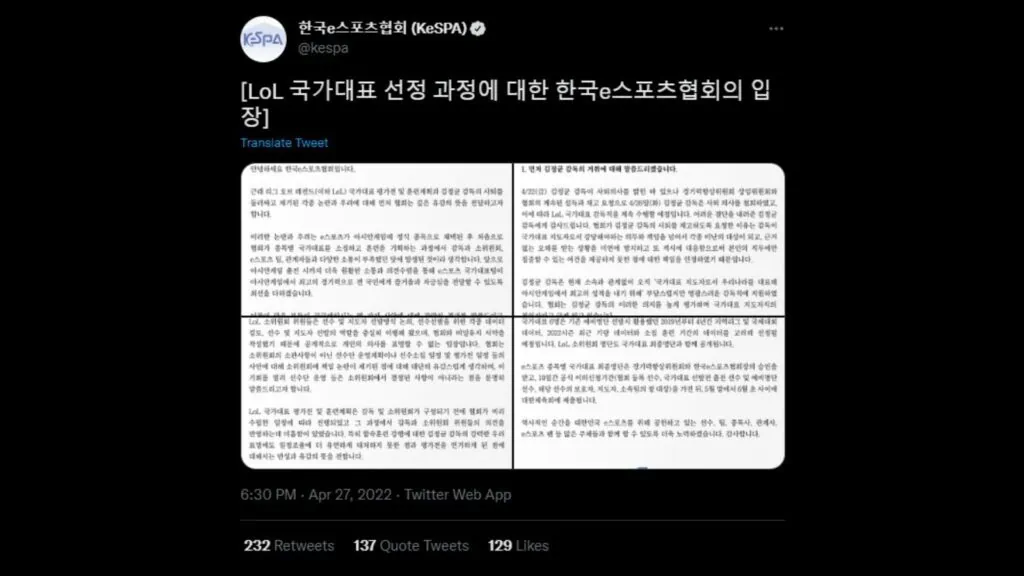 It released a statement explaining that the schedules had already been decided before the head coach was even appointed. Its League of Legends subcommittee had also not been formed yet and was not involved in creating the schedule.
The organization apologized for the inconvenience caused and outlined a new plan to select players. Moving forward, the player selection process will be handled entirely by kkOma and the subcommittee.
The six players will be picked at the end of MSI 2022, based on their achievements over the past four years, their form in 2022, and their performance in subsequent training camps.
The Asian Games 2022 will be held in Hangzhou, China, from September 10 to 25.
READ MORE: MSI 2022 groups set up NA versus EU clash once again