With the ongoing COVID-19 outbreak in South Korea, various LCK players have tested positive for the coronavirus. During the regular season, orgs were forced to call up emergency substitutes to replace these players, but this rule was changed to allow them to play remotely during the playoffs.
Kwangdong Freecs, who advanced to the playoff semifinals after beating DRX 3-2 yesterday, announced today that mid laner Yoo "FATE" Su-hyeok has tested COVID-19 positive.
The 21-year-old was feeling unwell during the DRX series yesterday, but was able to play on stage. He will compete remotely tomorrow if he feels well enough.
---
---
KDF FATE will play remotely in LCK playoffs match versus T1 after testing positive for COVID-19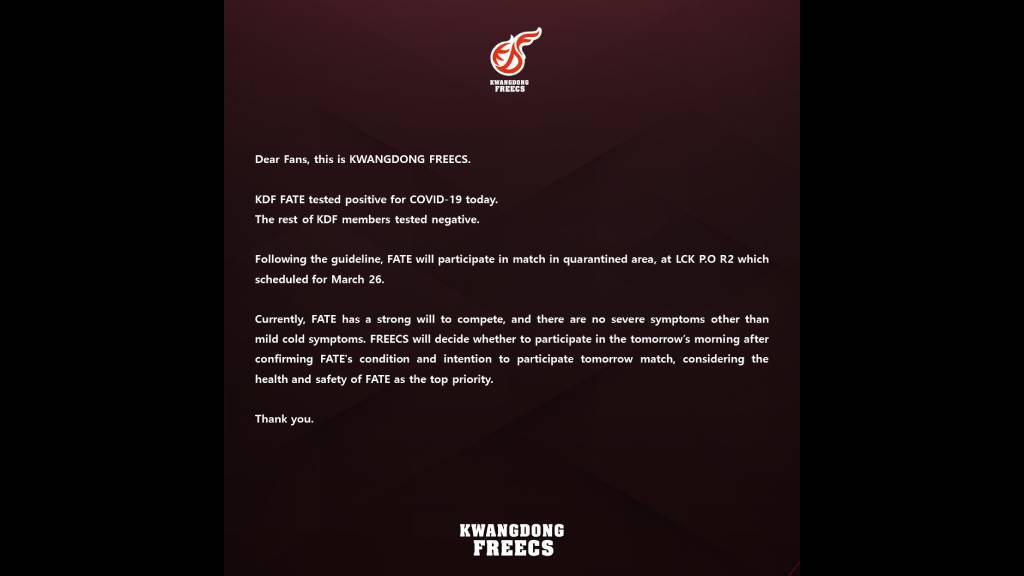 According to the org, the other players tested negative. Following LCK guidelines, FATE will participate in a "quarantined area" during the match against T1 tomorrow.
"Currently, FATE has a strong will to compete, and there are no severe symptoms other than mild cold symptoms," KDF wrote. The org also said it'll decide whether to participate tomorrow morning while considering "the health and safety of FATE as the top priority".
During the post-match press conference yesterday, KDF head coach Jang "Cain" Nu-ri thanked the player for "performing so well", even though he was not feeling very well.
The KDF mid laner is the first player in the playoffs to test positive.
Watch KDF take on T1 in the LCK Spring 2022 Playoffs at 4 p.m. GMT +8 | 1 a.m. PDT | 8 a.m. GMT on March 26, live on the LCK Twitch channel.
READ MORE: LCK Spring 2022 Playoffs Power Rankings: T1 are heavy favorites