Amidst a COVID-19 outbreak in the past two months, many LCK orgs have been adversely affected by players and staff testing positive for the coronavirus. Because the league did not allow players to play remotely, teams had to call up emergency substitutes.
This resulted in Fredit BRION having to forfeit their match against Gen.G yesterday, because their emergency players also tested positive.
Previously, their entire main roster also caught the virus, which forced them to field a roster comprising entirely of substitute players in their match against T1 on Sunday.
In response, the league has announced special provisions for the upcoming playoffs, which will allow players to play remotely if they are COVID-19 positive.
---
---
LCK to allow players to compete remotely if they test COVID-19 positive during playoffs
"If a confirmed case occurs among the players of the playoff team, he can participate remotely in the isolation space provided by each team if the player wishes to play," the league said in a press release.
However, if the player is not feeling well enough to play, an emergency call-up will be made, following the existing protocol, where:
Substitutions within the main roster
(If 1 is not possible) Emergency call-up/send-down
(If 2 is not possible) Rescheduling of match
Players who test negative will still be able to play on stage, the league confirmed.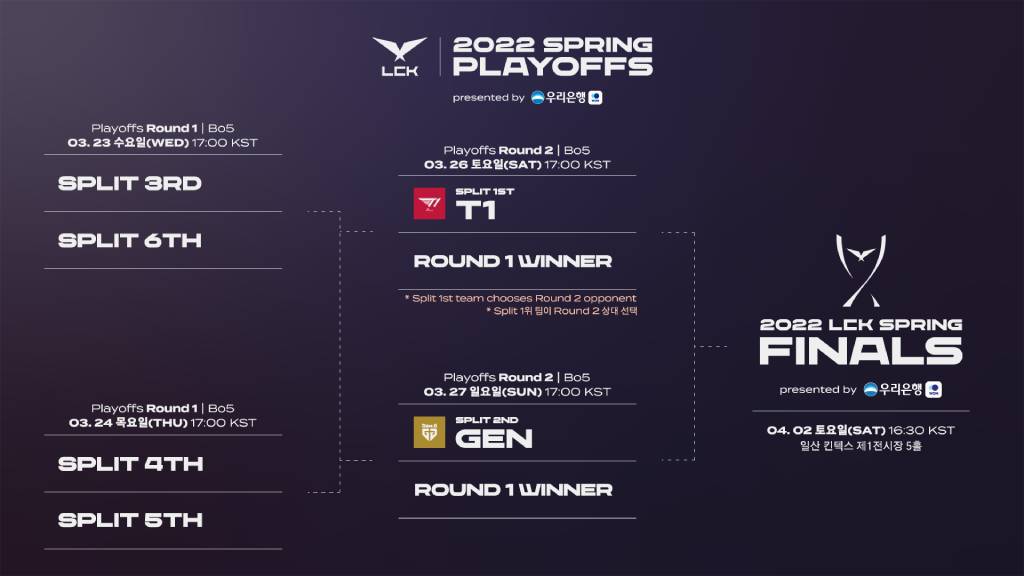 Round 1 of the playoffs will take place at LoL Park on March 23 and 24, followed by March 26 and 27 for Round 2, and all matches will be best-of-five.
It was also announced that the LCK Spring 2022 Playoffs final will take place on April 2 at KINTEX in Gyeonggi Province, the site of the first ever OGN finals in 2012 that MiG Blaze won.
READ MORE: T1 break their own record, go 15-0 in LCK with Faker playing Kai'Sa mid