Have you ever loved something so much that you'd put yourself through hours of pain just to have it inked in your skin?
One Worlds 2022 viewer did.
Brandon Ewing posted on Twitter his tattoo of the T1 logo with the accompanying words "World Champs '22" on his left leg near his ankle — one day before the final between T1 and DRX.
"Getting a tattoo after your team wins shows pride. But getting one the day before they play? That shows confidence," Ewing wrote.
The very next day, DRX went on to beat T1 3-2 to claim the 2022 League of Legends world championship.
---
---
T1 fan inks Worlds 2022 championship tattoo without knowing the winner
Ewing's tweet has gotten almost 30,000 likes at the time of writing. Even T1 CEO Joe Marsh had gotten wind of it and replied "Respect!"
This is not the first time a fan did something as risky as this. Twitter users responded, giving examples of how these stunts tend to go horribly wrong, especially in the world of sports.
One user wrote, "God it would be so funny if they lost," while others expressed outright that they wished the team would lose.
The Worlds 2022 finals took place the very next day, and T1 opened with a dominating performance in game one. They lost game two but won game three, which put them up at match point with a 2-1 score.
Unfortunately for T1 fans, DRX staged a massive comeback in the last two games, holding on for dear life, all the way until the finish line where they edged out the competition 3-2 to claim their first-ever world championship.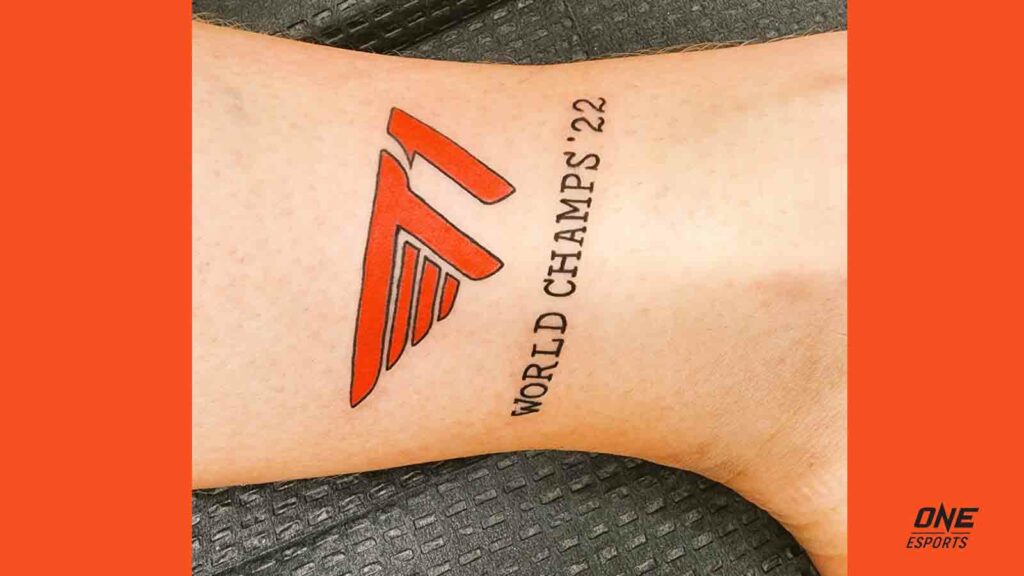 After knowing the outcome, Ewing followed up with another tweet, "I am, and always have been, the biggest Leonardo 'MkLeo' López Pérez fan in the world and this tattoo reflects that."
MkLeo is a professional Super Smash Bros. player from Mexico who joined T1 in 2020. In 2021, he won the Smash World Tour, and previously, Evo in 2019. It's likely he will compete in the upcoming 2022 Smash World Tour taking place from December 9 to 11 in San Antonio, Texas.
For the sake of Ewing, let's hope MkLeo wins. The least we could do is ignore the "s" in "champs".
READ MORE: DRX reveal the champions they're eyeing for Worlds 2022 skins