On February 21, 2023, Lee "Faker" Sang-hyeok achieved yet another new milestone — his very own mouse, officially called the Razer DeathAdder V3 Pro Faker Edition, was released worldwide.
Since the start of his pro League of Legends journey in 2013, he has been an advocate of Razer's DeathAdder mouse. By his side throughout his 10-year career, he has used it to win three world championships in 2013, 2015, and 2016.
The mouse is colored crimson red with black buttons, and contains a bold design that references his famous moniker "The Unkillable Demon King". On the right button, you'll also find his stylish signature.
In an exclusive interview with ONE Esports, the T1 mid laner tells us more about what he likes best about its design and the mouse grip he uses to execute incredible plays.
---
---
How it was like to work on the Razer DeathAdder Pro V3 Faker Edition mouse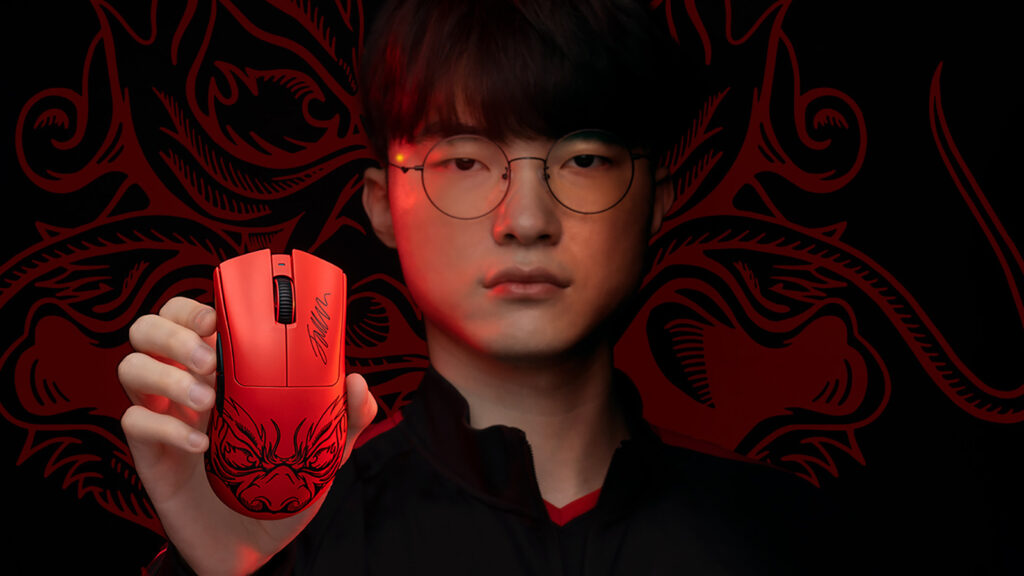 Faker had always dreamed of creating his own mouse, and feels very grateful to Razer for collaborating with him on this project.
"The best thing was that I was able to design the DeathAdder Pro V3 Faker Edition with the Razer team, and another thing would be how the mouse performs in terms of responsiveness," shared Faker.
He is especially proud of the uniquely designed demon on the body which references his nickname. "It's great that the image was used for the mouse design, since I feel that represents me the best," he said.
In total, the Razer DeathAdder V3 Pro Faker Edition has five programmable buttons, which he has yet to customize. He currently uses the default buttons in League of Legends, which is incredible considering how fast he's able to switch POVs.
---
---
Besides showcasing sleek mechanical skills and astute macro sense in-game, one of Faker's trademarks is the speed at which he changes player perspective, gathering information on his teammates and everything else happening on the map.
Relying on his trusty DeathAdder, he's also able to do this because of his mouse grip — he tends to claw grip the mouse, with a "slight grip at the bottom."
Using his keyboard shortcuts combined with swift mouse movements, he believes that at the end of the day, having the right settings that you're comfortable with is most important when it comes to improving gameplay and performance.
"It's always best that the users find their own comfortable settings when playing games rather than copying someone else's," he advised.
Buy the DeathAdder V3 Pro Faker Edition here.
READ MORE: 7 League of Legends Easter eggs that will surprise even hardcore players