Updated on February 9 at 1:38 p.m. GMT+8: Fixed typo.
Before the broadcast jumped into the TSM and 100 Thieves match in LCS Spring 2023 week two, Riot Games ran a segment that went over Yiliang "Peter" "Doublelift" Peng's long history with the North American league and TSM, the former organization that he made a name with.
LCS host Gabriella "LeTigress" Devia-Allen performed a three-minute monologue outlining his achievements in League of Legends esports. In the last segment, she spoke candidly about his public accusations against TSM founder, owner, and CEO, Andy "Reginald" Dinh, for bullying and verbal assault.
The way this broadcast segment was delivered received major backlash from the League of Legends community on reddit, who called Riot Games "unprofessional" for using abuse to hype up a match in which TSM is still a partner in their franchised LCS league.
Today, LeTigress issued a public apology to TSM on Twitter, which received another round of fresh comments on social media, including one from Doublelift.
---
---
---
Doublelift has beef with LeTigress' public apology for the TSM monologue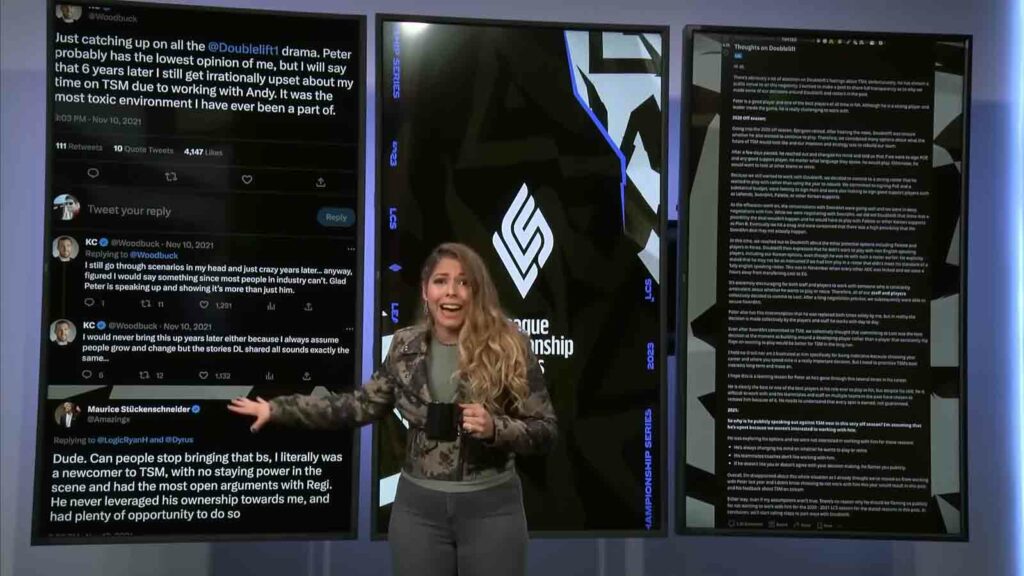 In LeTigress' TwitLonger, she first apologized "to anyone at TSM that was hurt, bothered, or in any way discomforted by the monologue," explaining that this was not their intent when they aired the segment.
Someone on the team had pitched the topic, then the production team decided that a monologue would be the best way to deliver it, according to LeTigress.
She worked together with the team on the script, which "went through multiple iterations."
"Clearly, we missed the mark," she wrote. "I understand how polarizing the piece is and that there are people who are hurt by my involvement. You have a right to voice your opinion and I appreciate those who do so respectfully. I'm reflecting on this moment to inform how I approach content in the future."
Fans on Twitter reacted positively to her apology. They pointed out that the entire LCS broadcast team had a part to play, and that the blame should not fall solely on her.
Doublelift had responded directly to her Tweet: "Apologize to everyone who experienced verbal abuse and workplace harassment, then remove the useless strawman where you still see yourself as the victim, and this might actually resemble an apology," he wrote.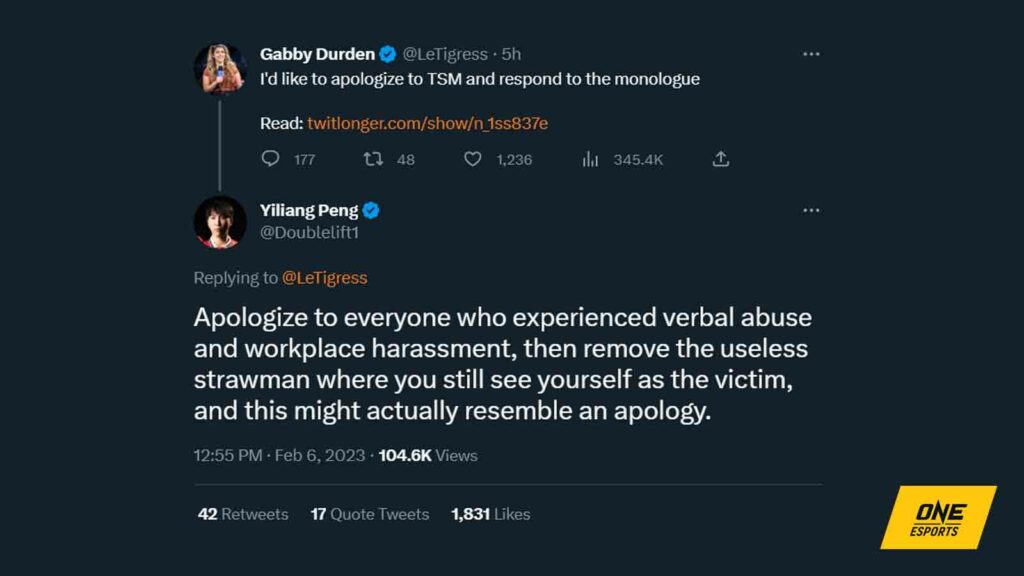 The veteran bot laner came out of retirement this year to join 100 Thieves with former TSM teammate Søren "Bjergsen" Bjerg. He retired after Worlds 2020 to become a full-time content creator.
The accusations against Reginald were investigated by Riot Games last year. They concluded that "there was a pattern and practice of disparaging and bullying behavior exhibited by Andy Dinh towards TSM players and staff members."
The competitive ruling by Riot fined Dinh US$75,000, requiring him to complete sensitive and executive training. He's on probation for two years starting July 2022, with independent monitoring put in place in TSM that regularly checks on its players.
Riot Games has not responded to community feedback about the monologue.
Follow ONE Esports on Facebook and Twitter for more LoL news, guides, and highlights.
READ MORE: Doublelift on his LCS return: 'No one is impressive'