Legendary bot laner Jian "Uzi" Zi-Hao has been very busy despite retiring from pro play.
Besides starting his own esports organization, recruiting for Wild Rift, and hinting at the possibility of returning to the LPL next season, he's adding another tick to his bucketlist — marriage.
Tingting, his girlfriend of more than four years, posted photographs of Uzi proposing to her today on Weibo in an elaborate engagement ceremony decorated with lots of flowers, lights, balloons, including a meal with close friends.
---
---
Uzi reveals he's a hopeless romantic at heart with heartfelt words and a Graff ring during the engagement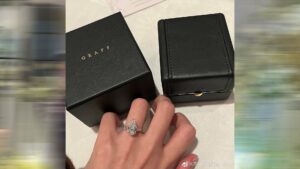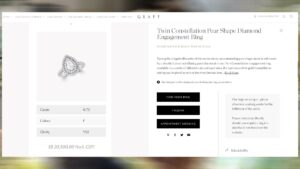 In Tingting's first post on Weibo, she thanked Uzi for the big surprise proposal.
"All my friends came today, Jian Zi-Hao said a bunch of words, he was choking up by the end of it," she wrote.
She included a close up of the large diamond-studded engagement ring that Uzi bought for her from Graff, one of the finest jewelers in the world. For a ring of similar size and design, the listed price is about US$15,000 (SGD$20,500) as seen on their website.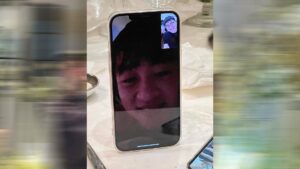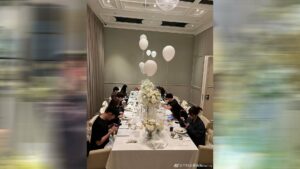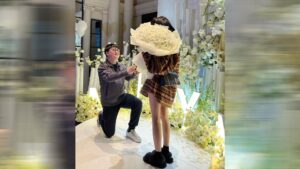 The pair even got on a video call with Royal Never Give Up support Shi "Ming" Sen-Ming, who is currently in Reykjavik, Iceland competing in Worlds 2021 as the team heads into the quarterfinals.
In her second post, Tingting described what Uzi said during the romantic proposal, a speech that he wrote himself.
"Tingting, I'm going to speak now. We've been together for more than four years. We've seen many friends around us go from falling in love to getting married. Finally, today it's our turn," Uzi had said.
"I know that for a man, no matter how much he earns, or how much he's experienced, these cannot compare to having a person I love by my side, who keeps loving me," he said. "I am very honored, Jia Ying, for every four years following this, I continue to take care of you. I love you dearly, Jia Ying, I love you. Jia Ying, will you marry me?"
READ MORE: EDG Flandre evaluates top lane Graves: 'It's not a very good pick'