Proud vegan and professional Dota 2 player Melchior "Seleri" Hillenkamp has announced that he will donate his entire TI11 winnings to a charity close to his heart.
The philanthropic 23-year-old plans to give all his hard-earned prize money to an Animal Sanctuary that is still "in the works."
"It will be a long-term project that I will share more about it in the future," he tweeted.
---
---
Seleri offered up all of his TI11 winnings to charity after Gaimin Gladiators were eliminated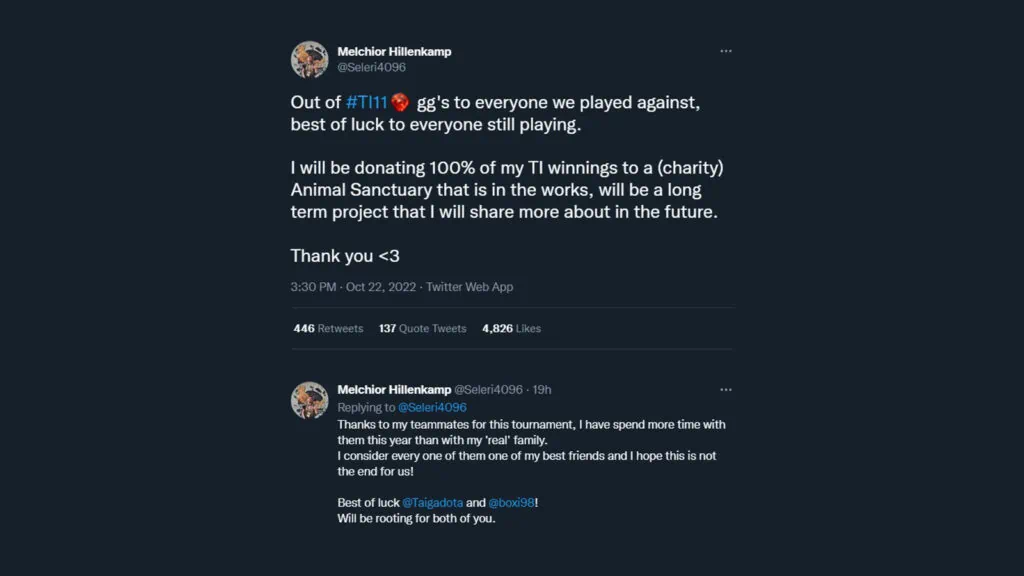 The talented position 5 support player ended his TI11 Playoffs run when Gaimin Gladiators were beaten by fellow Western European squad OG 2-1 in the second round of the lower bracket.
Nevertheless, Gaimin Gladiators' 9th-12th place finish at The International 2022 earned Seleri his biggest prize purse with his team — at least US$347,589, at the time of writing. TI11's prize pool is set to increase at least until the end of the tournament.
Seleri also shared that he is rooting for the last two remaining vegans in the tournament, OG's Tommy "Taiga" Le and Team Liquid's Samuel "Boxi" Svahn – two players from squads set to face one another in the lower bracket quarterfinals of TI11.
"I feel a little bit better losing to a fellow vegan, at least," he said in a post-game interview with Kaci "Kaci" Aitchison. "I hope Taiga will go on. Unfortunately, if Liquid wins he goes up against another vegan, Boxi, as well. So, another one will have to go."
After being eliminated, Seleri thanked his teammates for their successful DPC 2022 season. He also wishes that they all return to the team next year.
"I spent more time with them this year than with my 'real' family," he tweeted. "I consider every one of them one of my best friends, and I hope this is not the end for us!"
READ MORE: 3 beastcoast players reportedly down with COVID-19 at TI11