A new Dota 2 superpower is rising in China, as the organization Four Angry Men (4AM) has formed a star-studded squad consisting of some of the biggest names in the region: Zhang "Eurus" Chengjun, Lu "Somnus丶M" Yao, Zhou "Yang" Haiyang, Xu "fy" Linsen, and Ru "RedPanda" Zhihao, with Bai "rOtK" Fan as their coach.
4AM's superteam has been in the works since August, when the Chinese Dota scene went into a month-long hiatus that preceded this month's major roster shuffle. The organization almost inconspicuously announced their entry into the Dota 2 scene and hinted that "a big project is on the way."
While 4AM have remained publicly silent on its new superstar squad, fy himself confirmed during a streaming session on his channel on Chinese streaming platform, Huya, earlier this month that he will be leading this new superteam.
4AM first went after Somnus and fy, who left PSG.LGD earlier this month, to be the core of its superteam. Somnus and fy notably led PSG.LGD to the top of the Chinese Dota scene in the last couple of years, highlighted by a second place finish at The International 2018 (TI8), a third place finish at TI9, and two Dota Pro Circuit (DPC) Major championships.
The organization then acquired three of the pieces for its superteam from Vici Gaming (VG), with Yang and rOtK announcing their departure at the start of the month while Eurus left on September 16. The trio were a major driving force in VG's rise to the top of the Chinese scene in recent years alongside PSG.LGD, earning the latter two championships and three podium finishes at DPC Majors as well as Top 6 finishes at TI7 and TI9.
Finally, 4AM acquired RedPanda from Sparking Arrow Gaming (SAG), who was one of the reasons why the previously little-known team were able to roll with top Chinese squads prior to the scene's August hiatus.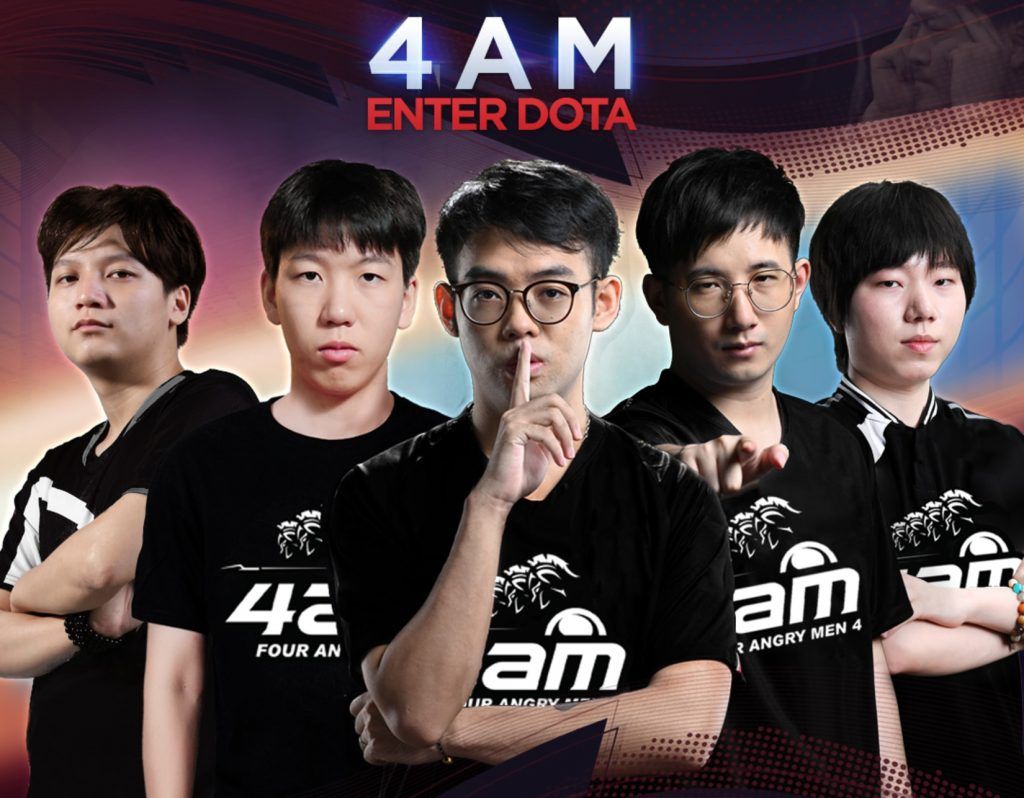 ---
---
4AM is brimming with talent in every position, with three of its four players — namely Somnus, Yang, and fy — in consensus for the current best player in their respective positions in China, with arguments to be made for at least Top 5 in the whole world.
4AM is one of the biggest PlayerUnknown's Battlegrounds (PUBG) organizations in China. It was founded by Wei "GodV" Zhen, who notably played as the midlaner for LGD's League of Legends team from 2014 to 2017 before he shifted to PUBG and started his own organization.
It is unknown when 4AM will debut its vaunted superteam, as they have not joined China Dota 2 Pro Cup Season 1, the first major offline Dota 2 LAN event since the COVID-19 pandemic and community quarantines started.
But when 4AM does enter competition, perhaps when the DPC returns early next year, the sheer amount of talent in the team alone should make them solid contenders for The International 2020 (TI10).
The superteam will be the Chinese scene's best shot at recapturing the Aegis of Champions too.
Two-time TI champions OG famously won the championship at TI8 over Somnus and fy's PSG.LGD in what many considered to be "China's year" to win TI. When TI9 was held in Shanghai, many also expected the region to get another Aegis on home soil. Unfortunately, Team Liquid eliminated PSG.LGD in the Lower Bracket Finals of the event to deny them a rematch with OG for the Aegis of Champions.
When TI10 does happen, 4AM will still be faced with some stiff competition. Aside from an OG squad looking to become back-to-back-to-back TI champions, they will also be facing a historically-dominant Team Secret.
Whatever may end up happening, this star-studded squad is sure to put the rest of the Dota world on notice.
4AM Dota 2 roster:
Zhang "Eurus" Chengjun
Lu "Somnus丶M" Yao
Zhou "Yang" Haiyang
Xu "fy" Linsen
Ru "RedPanda" Zhihao
READ MORE: RNG and LBZS top the China Dota 2 Pro Cup group stage