What's Arteezy's type of girl? One that can make him go DDU-DU DDU-DU, of course!
With the conclusion of The International 2022 (TI11), Dota 2 players are already enjoying their well-deserved break. Evil Geniuses star Artour "Arteezy" Babaev, in particular, spent the first few days of the offseason attending a concert with his girlfriend, Zhang "Dove" Tiange.
---
---
Watching their favorite K-pop girls live on stage, the two seemed to have had the time of their lives, going by their social media posts.
---
---
Arteezy, together with his girlfriend, unwinds after TI11 by watching a Blackpink concert
The esports couple attended the Born Pink world tour on November 6 at FirstOntario Centre in Hamilton, Ontario, Canada. It was the first time the pro player and the host watched a live Blackpink concert together.
"He's a bigger fan than me now," Dove said in her Instagram post.
The Canadian-Uzbekistani carry player's journey as a Blink (Blackpink's fandom name) began in 2020 when his girlfriend tweeted a photo of him watching Blackpink's "How You Like That" performance video. He would also sometimes play Blackpink songs during his Dota 2 livestreams.
Back then, Arteezy was a huge Lisa fanboy, according to Dove. Things have changed since then, as the 26-year-old EG pro expressed his love for Jennie, the group's singer and rapper.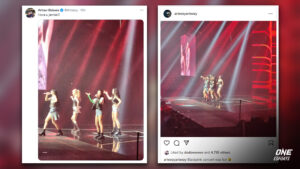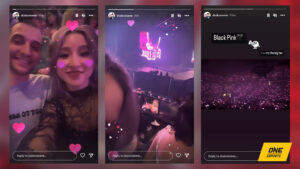 Artour's massive admiration for the K-pop girl group was actually heavily influenced by his girlfriend.
"Dove loves to dance, she watches a lot of K-pop dance practice videos," he said during The International pre-show, Monster Mornings. "And eventually, she used to dance around me, and then I started watching the videos, and then, soon enough, I'm the biggest K-pop fan."
---
---
He didn't even like K-pop that much at first. But he came around after listening to female K-pop singers like 2NE1's Sandara Park and Girl's Day's Park Sojin, according to an interview from Nexon back in 2014, as translated by Redditor VerbalB.
If you'd like to see more players who are into Korean pop, here are six other pros who are secretly huge K-pop fans.