Updated at February 16, 12:34 p.m. (GMT -5): Trainwreck has since deleted his tweet.
Host of the Scuffed podcast Tyler "Trainwreck" Niknam has claimed that popular musician Drake will be part of the first episode of the show in over a year.
The news came via a simplistic tweet revealing the return of the podcast alongside the news that it would feature Drake.
Having previously aired over 200 episodes, the podcast has featured tons of celebrities both in and out of the world of gaming influencers and streamers over the years. The list of guests includes the likes of Ludwig Anders Ahgren, Imane "Pokimane" Anys, Hasan Piker, Aileena "Leena" Xu, and more.
Despite what many would consider a successful run, the last episode aired in December 2021 and the project has been mostly quiet since. The last tweet from the official Twitter account came in March 2021.
---
---
Drake revealed as the guest for the podcast's return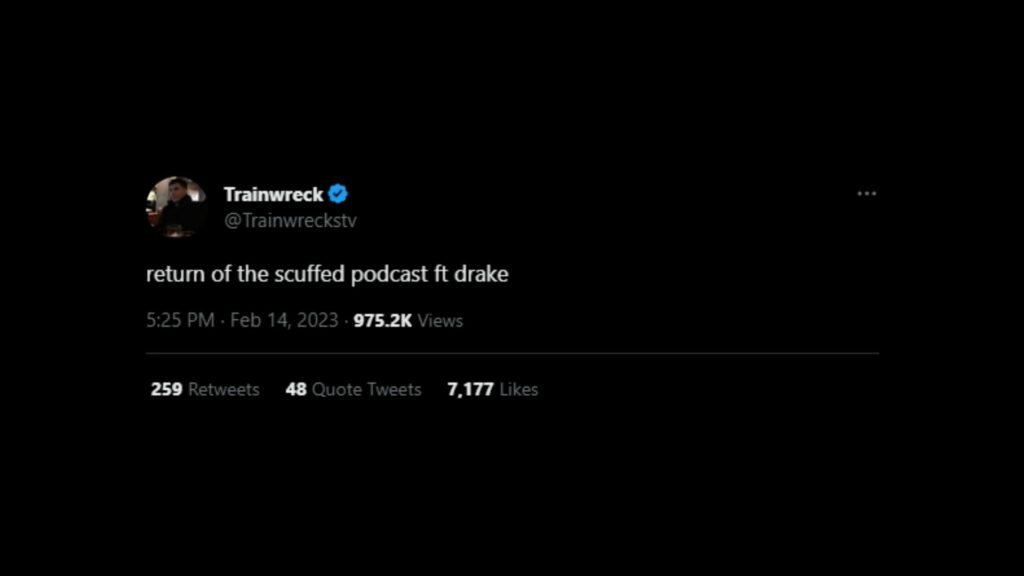 Given the streamer's recent push for Twitch rival, Kick, it will be interesting to see where he plans to host the podcast episode alongside Drake. It's been a controversial position given the whole movement around gambling on Twitch, and Kick being backed by Stake, one of the biggest companies in the world in the gambling industry.
Drake is one of Stake's foremost ambassadors, first announcing the partnership in March last year.
If he chooses to host the show, which is sure to bring in tens of thousands of viewers at a minimum on Kick, it would be an opportunity to showcase the site to a bigger and newer audience.
Regardless, the replies are already filled with fans and other influencers excited at the prospect of the show. Former Call of Duty professional player Ian "Crimsix" Porter expressed his excitement and was met with a "you coming?" from the host himself. Crimsix has been seen on the Scuffed podcast previously.
One would imagine that some of the most popular influencers will be eager to join this episode if they are able to appear on a competing website should Kick be chosen as the host of the show. Only time will tell, however.
READ MORE: xQc says Adin Ross' latest path is "unhealthy rabbit hole"