Encountering Ruin Guards in Genshin Impact can be terrifying, especially for beginners. These killer machines roam around Teyvat, stomping the ground and shooting missiles at unsuspecting travelers who get near them.
A large part of their population can be found in the ruins of Brightcrown Canyon in Mondstadt.
One Ruin Guard seems to have wandered off too far–and ended up at a cosplay convention in Texas in the United States.
Amazing Ruin Guard cosplay spins just like the Genshin Impact enemy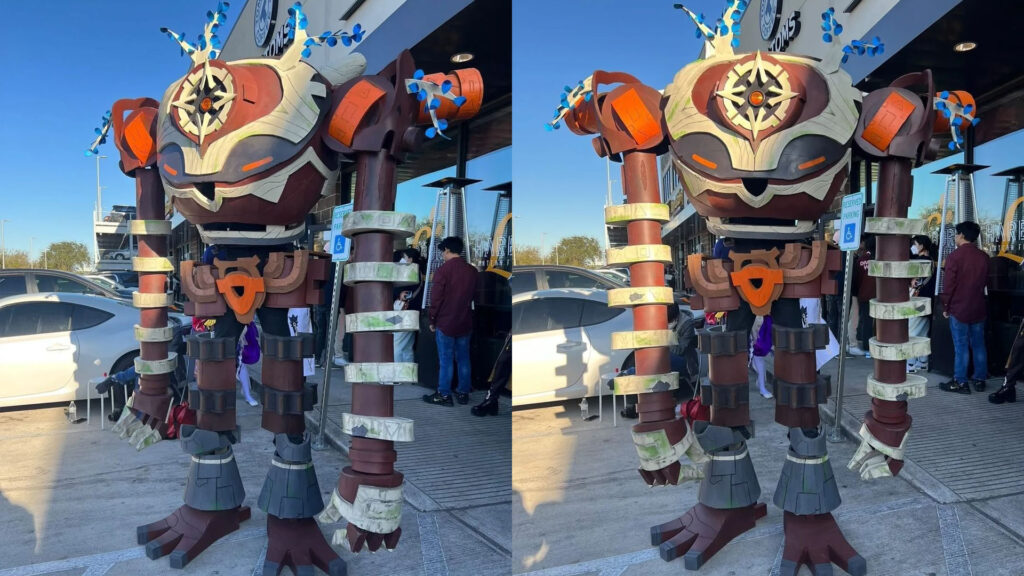 Biotom27's impressive Ruin Guard cosplay stood out among hundreds of Genshin character cosplays at A-Kon, held from June 3 to 5 at the Irving Convention Center in Texas.
The cosplayer utilized several craft foam sheets glued together to create the Automaton's deadly-looking mechanical arms and feet, upper body, and vines on its shoulders and head.
To illustrate the magnitude of this Genshin mob, Biotom27 walked on a pair of stilts throughout the entire event. The cosplay is about 10 feet tall, one of the biggest costumes he has ever built.
"I work really hard to keep the scale and proportions of my characters," he said in one of his TikTok videos.
---
---
He also manually spins the upper body with his own arms to portray one of the Ruin Guard's attack movements in-game.
It took about five months to complete this cosplay. Biotom27 first crafted the monster's humongous feet in October 2021 and finally painted the whole cosplay in March 2022.
He attended A-Kon and caught the attention of Genshin Impact's English voice actors Erika Harlacher-Stone, Anne Yatco, and Mark Whitten.
---
---
Biotom27's crafting expertise also shows in his other cosplays such as Denji from Chainsaw Man, Glamrock Freddy from Five Nights at Freddy's, and Let Me Solo Her from Elden Ring. You can check out his cosplay processes on his TikTok and Instagram accounts (@biotom27).
READ MORE: Exclusive: Even after a decade in the industry, Knite still lives by these cosplay ideals