Updated on April 6, 10:57 a.m. (GMT+8): Improved relevancy.
Graceful, charming, delicate – these are just some of the words that perfectly describe Genshin Impact's 5-star Hydro character, Nilou.
Hailing from the Sumeru region, Nilou is a performer at the Zubayr Theater. Anyone who watches her is immediately put into a trance due to the magic of her dance moves.
Popular Chinese cosplayer Senyamiku enthralls everyone, dressing up as the region's 5-star Hydro character.
---
---
Whoa! We have no words for this Nilou cosplay by Senyamiku
The cosplayer nailed down Nilou's look from head to toe, wearing a headpiece with a pair of black horns and golden embellishments.
The costume highlighted Senyamiku's curves, similar to the character's figure — the result of years of training and dancing.
Nilou's dance was one of the highlights of Archon Quest Chapter III Act II: The Morn a Thousand Roses Brings. Her performance was based on Persian classical dance.
Previously, the Chinese cosplayer portrayed other Genshin Impact characters such as Yae Miko, Rosaria, Eula, and the Raiden Shogun.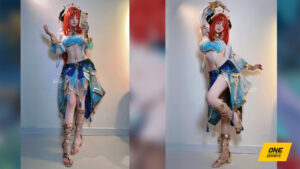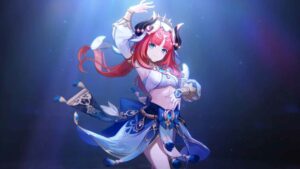 Follow Senyamiku on her Instagram (@senyamiku) and Twitter (@senyamiku0) accounts.
READ MORE: Her parents told her to reach for the stars, so she became a Layla cosplayer