Japanese idol and anisong singer Akase Akari is always ready to show her love for all things anime.
She first rose to popularity with her performance of the My Dress Up Darling ending song, and is now venturing into the world of cosplay.
After becoming the best-dressed girl as Marin Kitagawa and radiating elegance as Genshin Impact's Kamisato Ayaka, Akase steps into the shoes of a workaholic devil hunter in her latest Makima cosplay.
---
---
Akase Akari is ready to hunt devils in her Makima Cosplay
Akase perfectly captures the look and demeanor of Makima from the Chainsaw Man manga. The character is first introduced as a cold-hearted devil hunter, but eventually shows her softer side as the love interest of protagonist Denji.
The cosplayer asserts her dominance effortlessly in a white button-up shirt, a tie, and a skirt. She also pulls off Makima's hypnotic gaze perfectly with ring-patterned contact lenses.
While Makima might be a simpler character to bring to life given her regular office attire, Akase completes the cosplay with a background that recreates Chainsaw Man's volume 10 Japanese cover.
With similar red and green hues and contrasting yellow Japanese characters, it's safe to say that Akase's Makima cosplay looks like it came straight out of the manga cover.
With the Chainsaw Man anime set to release this year, could Akase lend her voice to another ending song? We certainly hope so.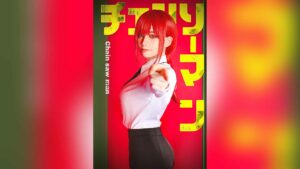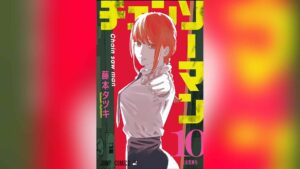 Fans can follow Akase on her Twitter (@akase_official) and Instagram (@akaseakari_official) accounts to stay updated on her latest song releases and cosplays.
Follow ONE Esports on Facebook and Twitter for more anime news and stories.
READ MORE: Kamisato Ayaka cosplay by Akase Akari unites Genshin and anime fans