If you're looking to take out your enemies in Modern Warfare 2 without needing more than one bullet, then the SP-X 80 is exactly what you need.
The powerful sniper is able to one-shot opponents as far as the eye can see so long as you hit them in the right place!
Thankfully for us, Call of Duty expert XclusiveAce has put together a video breakdown of the powerful sniper including everything from the ranges to the attachments and more.
---
---
The one-shot range on the SP-X 80 is everything you want in Modern Warfare 2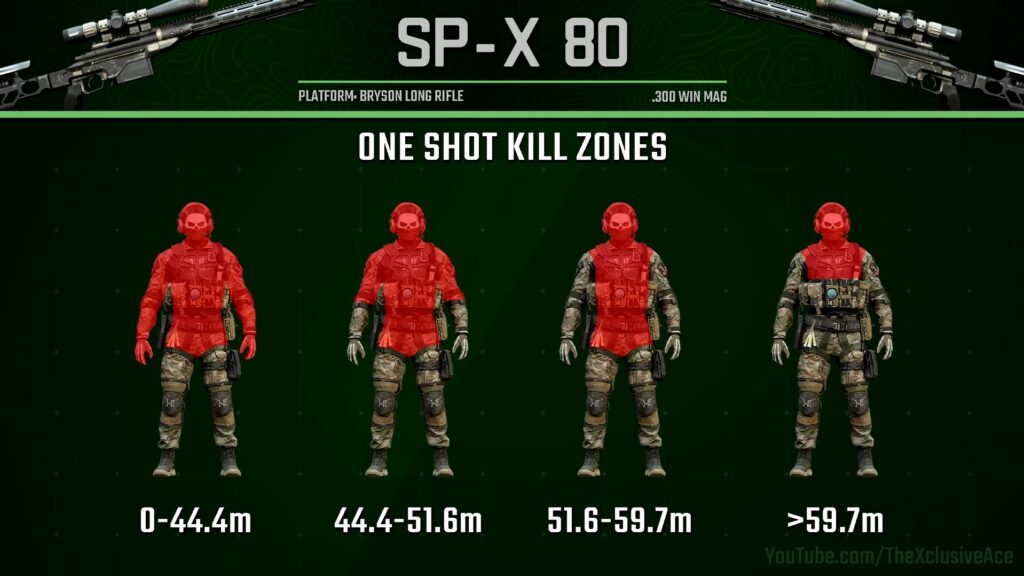 First things first: XclusiveAce explains exactly where you need to hit your target based on the distance they are away from your scope. Anything above the thighs is going to be a one-shot kill up to 44.4m away, but once you pass 59.7m you'll need an upper torso or headshot to secure the elimination.
Moving into the weapon's rate of fire compared to the other snipers, the SP-X 80 is the fastest of the bolt actions with a rechamber of 1210 meters per second which gives you 50 rounds per minute.
The weapon is fast to use too. With a 531ms aim down sight time, you can certainly spot and enemy and take action sooner rather than later.
Now let's talk about builds.
---
Aggressive build
This build is designed more for your 6v6 team deathmatch and faster gameplay style modes.
| | |
| --- | --- |
| SLOT | ATTACHMENT |
| Barrel | 18.5″ Bryson LR Factory |
| Laser | FSS OLE-V Laser |
| Optic | VLK 4.0 Optic |
| Stock | PVZ-890 TAC Stock |
| Bolt | FSS ST87 Bolt |
With these attachments, you can expect the following stats on your sniper.
Rate of fire – 59 RPM
ADS speed – 390ms (-151ms)
Sprintout time – 243ms/351ms
Muzzle velocity – 729m/s
---
Long Range build
The long-range build is more suited for ground war, invasion, or modes like DMZ or Warzone.
| | |
| --- | --- |
| SLOT | ATTACHMENT |
| Laser | Schlager PEQ Box IV |
| Stock | PVZ-890 TAC Stock |
| Rear Grip | Bruen Lynx Grip |
| Bolt | FSS ST87 Bolt |
| Ammo | .300 High velocity |
These changes will give you a slower ADS speed but a greater bullet velocity to allow for those long distance shots to land.
Rate of fire – 59 RPM
ADS speed – 481ms (-50ms)
Bullet velocity – 1123m/s
---
According to XclusiveAce, this is "the best sniper rifle in the game, or at least bolt action." So if you're looking for a solid sniper with that bolt action feel, this is the one for you.
READ MORE: The best perks to use in Modern Warfare 2