World Cup fever is upon us, and it's made its way to Call of Duty as well.
The Modern Warfare 2 FC event sees the introduction of new Operators in the form of football icons Neymar Jr., Paul Pogba, and Lionel Messi. At the same time, an in-game voting system will let players vote for the team they think will win in six different matches.
You'll receive prizes based on how your chosen team performs. Here's a look at the event rewards and how you can take part.
---
---
Modern Warfare 2 FC event rules and prizes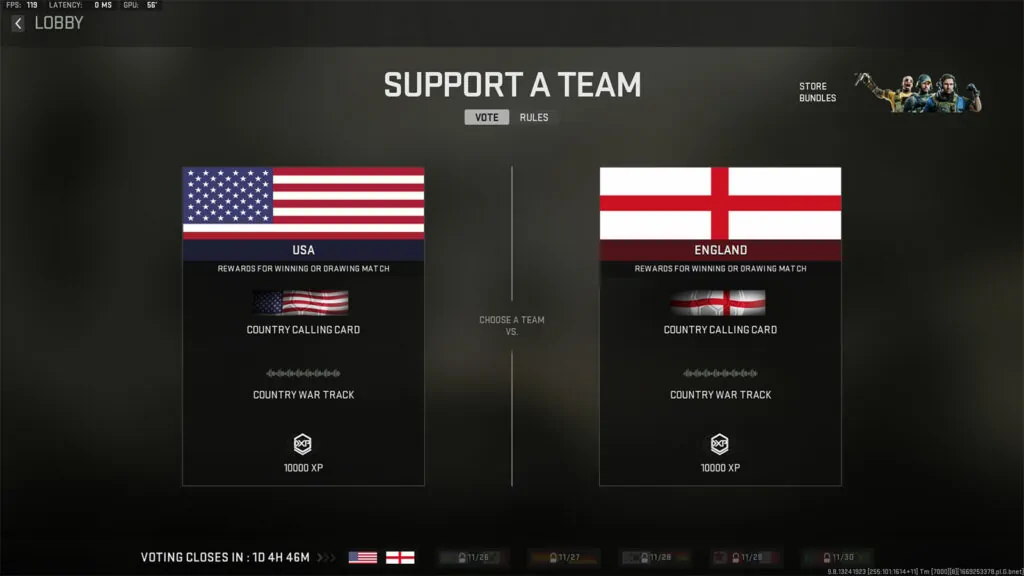 Voting is open for the first match between England and USA on November 25. To access the voting system, simply scroll down in the main menu until you see the card for the Support A Team event and the Modern Warfare FC button.
Clicking the button will bring you to a page that allows you to vote for your favorite team. If your team wins, you will receive a calling card with that country's flag, a country war track, and 10,000 XP.
On top of that, there are various tiered rewards depending on how many correct predictions you get. If you correctly predict two matches, you'll win one weapon blueprint as shown below. Correctly predicting four matches will net you a second blueprint.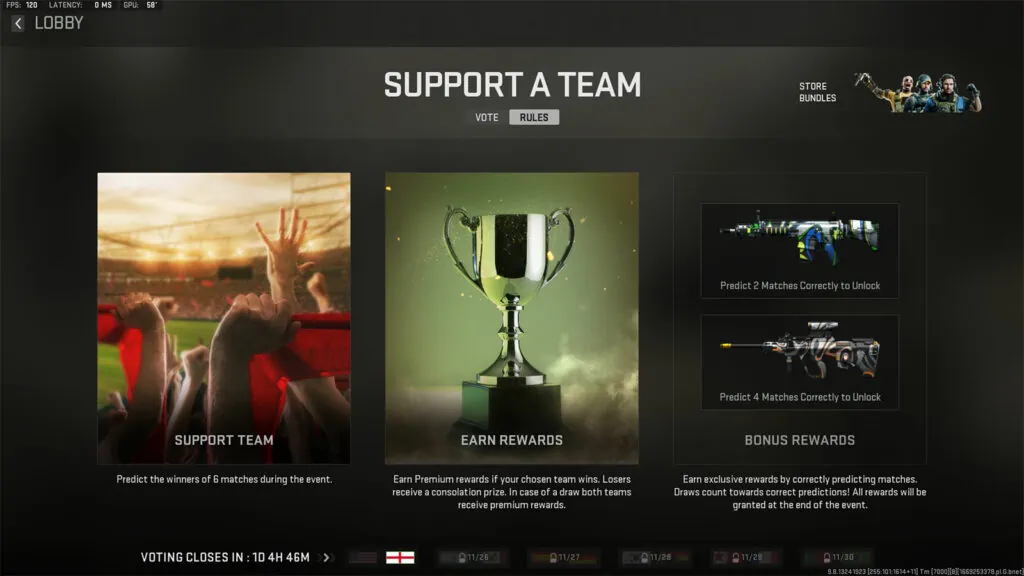 The good news is that everyone stands to walk away with something. Even if you lose, you'll receive a consolation prize. Draws count toward correct predictions as well, which means both teams get the premium rewards.
Voting for the following matches will open in the coming days:
Argentina vs Mexico
Spain vs Germany
South Korea vs Ghana
Tunisia vs France
Cameroon vs Brazil
All rewards will be given out when the event ends on December 2.
Find out when Warzone 2.0 and Modern Warfare 2 Season 1 ends, how to get a nuke in Warzone 2.0, and how to interrogate enemies.
READ MORE: What does Ghost look like under his mask in Modern Warfare 2?