The meta has shifted in Warzone 2, and it's all about the light machine guns now. The LMG meta has seen the Icarus 556 rise up as one of the most popular weapons in the game.
In a recent video, Call of Duty guru WhosImmortal breaks down the best Icarus 556 loadout so you can test it out for yourself.
---
---
The Icarus 556 loadout you've always wanted for Warzone 2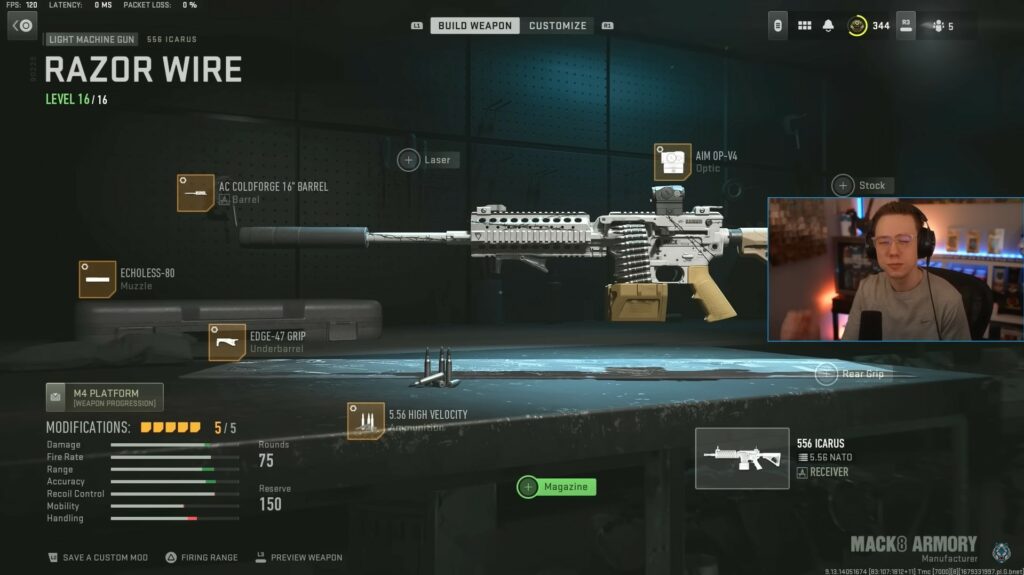 According to WhosImmortal, he's loving this weapon loadout and says it's "really going to thrive over long ranges." So let's get into exactly what he recommends to dominate the map.
For the ammo, he selects the 5.56 high-velocity rounds to help with range and accuracy. He slots it in the default 75-round mag, so you shouldn't have to reload after an elimination or two.
To help make the weapon more consistent in terms of recoil, WhosImmortal goes with the Edge-47 grip underbarrel.
In terms of the optic, he does say it's mostly preference, but uses the AIM OP-V4 himself.
And lastly, he chooses the FTAC Coldforge 16″ barrel. He adds that he normally doesn't add barrels for this type of loadout, but adds it in for this one to make the damage range for the LMG even better.
| | | |
| --- | --- | --- |
| SLOT | ATTACHMENT | TUNING (VERTICAL, HORIZONTAL) |
| Barrel | FTAC Coldforge 16″ | +0.32, +0.21 |
| Muzzle | Echoless-80 | -0.68, +0.65 |
| Underbarrel | Edge-47 Grip | +0.49, +0.19 |
| Ammo | 5.56 High Velocity | +0.43, +4.94 |
| Optic | AIM OP-V4 | -1.55, -1.65 |
If you want to keep up with the meta, we recommend jumping in and giving this one a try.
READ MORE: Microsoft and Activision 'confident' Call of Duty can be optimized on Nintendo Switch