CDL 2023 marks the beginning of a brand new season of a new Call of Duty title.
Modern Warfare 2 has arrived for competitive play, hot on the heels of the Los Angeles Thieves' championship victory at a sold-out Galen Center.
After the offseason roster mania, teams will be looking to dethrone the Thieves in a new game. This season features five different Major events, eventually culminating in the Championship Weekend next summer.
Here's a look at the schedule for the CDL 2023 and all the new rosters competing.
---
---
What is CDL 2023?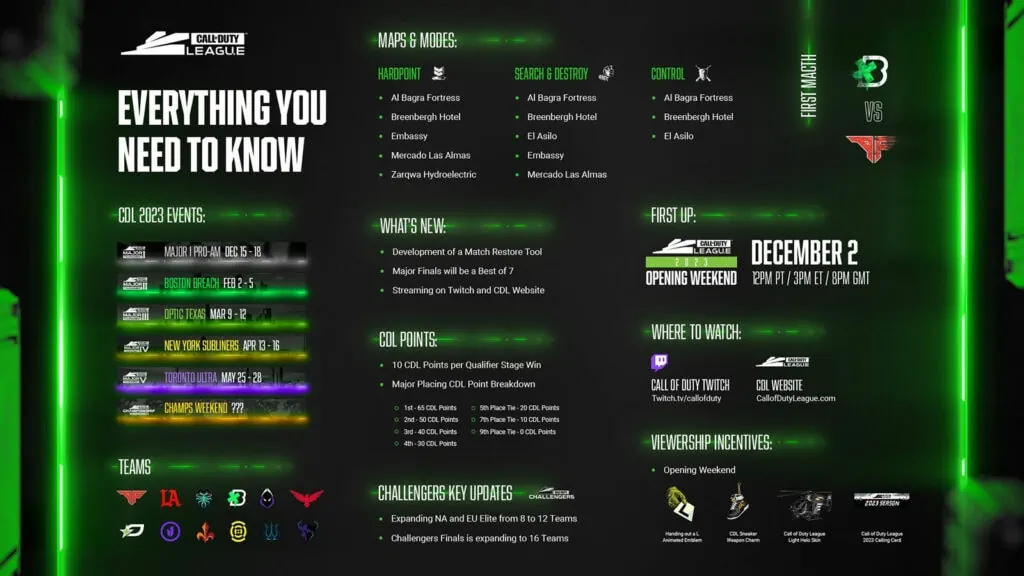 The Call of Duty League 2023 is a professional esports league for Call of Duty. It follows the model of Activision Blizzard's Overwatch League, and each of the 12 teams has its own home city.
The League kicked off in 2020, and the 2023 edition marks its third season. Teams will be battling for CDL points across each of the five Majors, which will contribute to their place in the standings.
The final standings will decide the seeding for the biggest event of the year — the CDL playoffs.
---
CDL 2023 schedule and format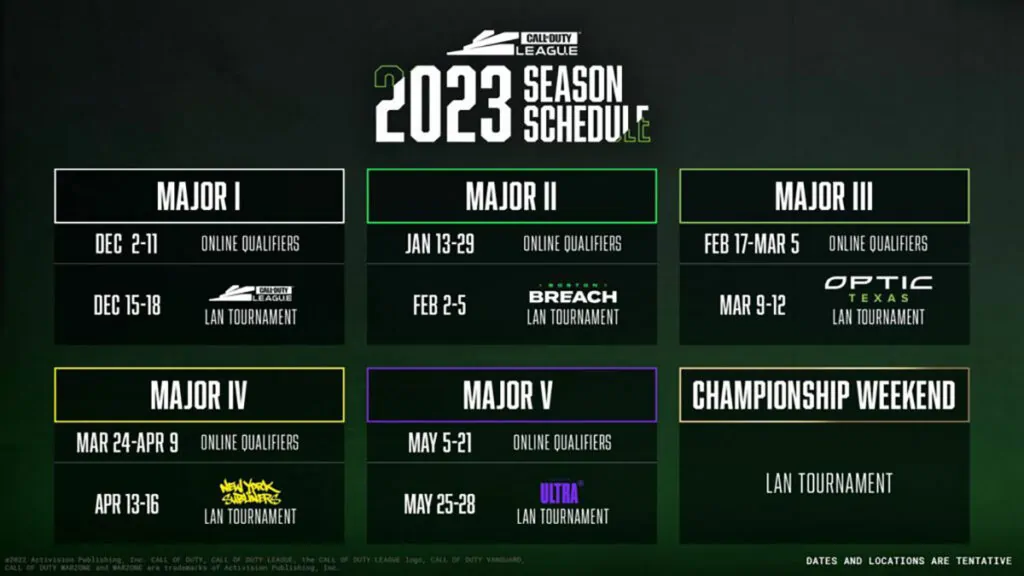 Major I (CDL)
December 2 to 11 — Online qualifiers
December 15 to 18 — LAN tournament
Major II (Boston Breach)
January 13 to 29 — Online qualifiers
February 2 to 5 — LAN tournament
Major III (OpTic Texas)
February 17 to March 5 — Online qualifiers
March 9 to 12 — LAN tournament
Major IV (New York Subliners)
March 24 to April 9 — Online qualifiers
April 13 to 16 — LAN tournament
Major V (Toronto Ultra)
May 5 to 21 — Online qualifiers
May 25 to 28 — LAN tournament
Qualifier weeks will consist of three weeks of online gameplay, during which time each team will play five games. These three weeks will determine the seeding for the LAN matches at team-hosted major tournaments.
Major I is the only exception, featuring just two weeks of online qualifiers with teams playing four matches each.
The first Major will also follow a Pro-Am format with qualified Challengers teams battling pros for CDL points and US$500,000 in prize money. It will be hosted at the Raleigh Convention Center in Raleigh, North Carolina.
Bounty Matches are also returning for the 2023 season. In the middle of the season, there will be additional opportunities for teams to compete for more prizes and bragging rights.
Regular season matches will be best-of-five games, while all Major finals will be played in a best-of-seven format, instead of a best-of-nine like last year.
---
CDL 2023 maps and modes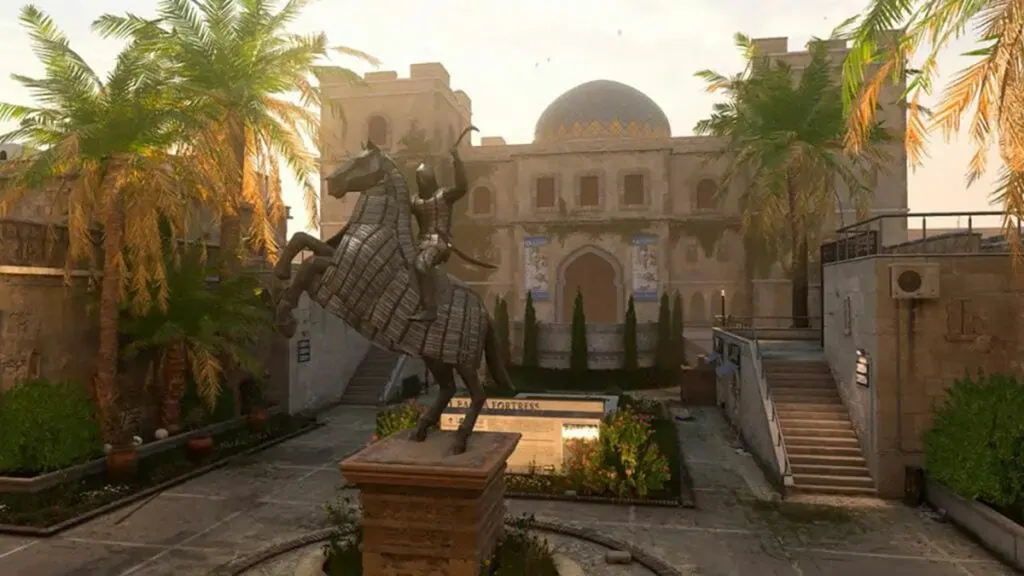 The season will be played on Hardpoint, Search and Destroy, and Control game modes.
Hardpoint
Al Bagra Fortress
Breenbergh Hotel
Embassy
Mercado Las Almas
Zarqwa Hydroelectric
Search and Destroy
Al Bagra Fortress
Breenbergh Hotel
El Asilo
Embassy
Mercado Las Almas
Control
Al Bagra Fortress
Breenbergh Hotel
El Asilo
---
CDL 2023 points system and prize pool
Teams are awarded 10 CDL points per qualifier stage win, and additional points are given based on their placing at Majors.
| | |
| --- | --- |
| MAJOR PLACING | CDL POINTS |
| 1st | 65 |
| 2nd | 50 |
| 3rd | 40 |
| 4th | 30 |
| 5th place tie | 20 |
| 7th place tie | 10 |
| 9th place tie | 0 |
The total prize pool for the season is US$5 million.
---
All teams competing in CDL 2023
There are 12 teams in CDL 2023:
Atlanta FaZe
Boston Breach
Florida Mutineers
Las Vegas Legion
London Royal Ravens
Los Angeles Guerrillas
Los Angeles Thieves
Minnesota RØKKR
New York Subliners
Seattle Surge
OpTic Texas
Toronto Ultra
Where to watch CDL 2023
---
---
CDL 2023 will be available to watch on the official Call of Duty Twitch channel and website.
READ MORE: How to get CDL 2023 viewer rewards for Warzone 2.0 and Modern Warfare 2