The Call of Duty League 2023 offers bountiful in-game rewards for viewers, including calling cards, emblems, vehicle skins, and XP tokens.
These rewards are available for free to anyone who tunes in and can be used in both Warzone 2.0 and Modern Warfare 2.
With the online qualifiers for CDL 2023 Major I already underway, here's a look at how to earn all the rewards.
---
---
How to get CDL 2023 Major I viewer rewards and Twitch drops
From December 2 to 18, you can earn Double XP tokens by watching live CDL matches on Twitch.
To receive the viewer rewards, simply follow the steps below:
Create your Activision account and link your Battle.net, PSN, Xbox, or Steam account.
Link your Twitch account with your Activision account.
Watch matches live on twitch.tv/callofduty while signed in with a linked account to earn rewards.
After achieving the unlock time requirement, you can claim your drop here.
There are a total of 14 30-minute Double XP and Double Weapon XP tokens to be earned, unlocking for every two hours of matches watched, up to 14 hours.
---
All CDL 2023 Major I viewer rewards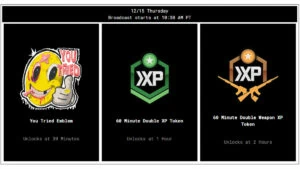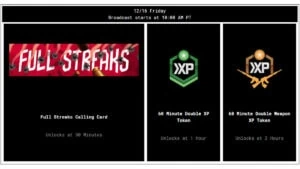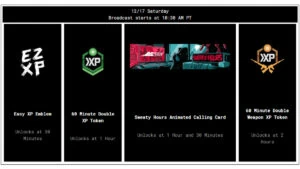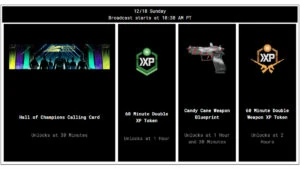 At the same time, a selection of special drops is also available to be claimed for both the opening weekend and Major I bracket stage.
Opening weekend
| | | |
| --- | --- | --- |
| DATE | REWARDS | HOW TO GET |
| December 2, Friday | Call of Duty League 2023 calling card | Unlocks at 30 minutes |
| December 2, Friday | 60-minute Double XP token | Unlocks at 1 hour |
| December 2, Friday | CDL Sneakers weapon charm | Unlocks at 1 hour and 30 minutes |
| December 3, Saturday | 60-minute Double Weapon XP token | Unlocks at 1 hour |
| December 3, Saturday | CDL Smokes Emblem | Unlocks at 1 hour and 30 minutes |
| December 4, Sunday | Handing Out a L animated emblem | Unlocks at 1 hour |
| December 4, Sunday | Call of Duty League Chopper skin | Unlocks at 1 hour and 30 minutes |
Major I Bracket
Tune in daily from December 15 to 18 to earn these drops. The broadcast start times for each day are as follows:
December 15 — 10:30 a.m. PT | 6:30 p.m. GMT | 2:30 a.m., December 16
December 16 — 10:00 a.m. PT | 6:00 p.m. GMT | 2:00 a.m., December 16
December 17 — 10:30 a.m. PT | 6:30 p.m. GMT | 2:30 a.m., December 16
December 18 — 10:30 a.m. PT | 6:30 p.m. GMT | 2:30 a.m., December 16
| | | |
| --- | --- | --- |
| DATE | REWARDS | HOW TO GET |
| 15 December, Thursday | You Tried emblem | Unlocks at 30 minutes |
| 15 December, Thursday | 60-minute Double XP token | Unlocks at 1 hour |
| 15 December, Thursday | 60-minute Double Weapon XP token | Unlocks at 2 hours |
| 16 December, Friday | Full Streaks calling card | Unlocks at 30 minutes |
| 16 December, Friday | 60-minute Double XP token | Unlocks at 1 hour |
| 16 December, Friday | 60-minute Double Weapon XP token | Unlocks at 2 hours |
| 17 December, Saturday | Easy XP emblem | Unlocks at 30 minutes |
| 17 December, Saturday | 60-minute Double XP token | Unlocks at 1 hour |
| 17 December, Saturday | Sweaty Hours animated calling card | Unlocks at 1 hour and 30 minutes |
| 17 December, Saturday | 60-minute Double Weapon XP token | Unlocks at 2 hours |
| 18 December, Sunday | Hall of Champions calling card | Unlocks at 30 minutes |
| 18 December, Sunday | 60-minute Double XP token | Unlocks at 1 hour |
| 18 December, Sunday | Candy Cane weapon blueprint | Unlocks at 1 hour and 30 minutes |
| 18 December, Sunday | 60-minute Double Weapon XP token | Unlocks at 2 hours |
READ MORE: The complete beginner's guide to Call of Duty Warzone 2.0