The FIFA World Cup 2022 in Qatar is the biggest football event of the year, with hundreds of thousands of sports fans watching live in its venues and on television worldwide.
The tournament has attracted people from all walks of life, including anime fans.
Instead of wearing bright bucket hats and other headgear to show support for their respective countries, a few fans wore eye-catching character costumes to the stadium.
One avid Spy x Family viewer showed up as the series' loveable protagonist, Anya Forger.
---
---
Anya Forger cosplayer makes surprise appearance at FIFA World Cup 2022
The cosplayer was caught on cam during the group stage game between Japan and Germany on November 23.
They wore a Samurai Blue jersey over their cosplay costume to show their support for Japan, as well as a bright pink wig with a pair of black, triangular hair clips to represent the anime character.
Because of their striking getup, some attendees lined up to take a selfie with them and congratulate them on their country's victory 2-1 against Germany.
"Jouzu, jouzu," they said to their fellow spectator, who congratulated them in Japanese.
The word means being good at or skillful at something — in this case, at speaking Japanese.
Keen-eyed viewers spotted the Spy x Family cosplayer made a brief appearance on the vlog of travel YouTuber Carlos Volpe, commonly known as Volpe Where Are You.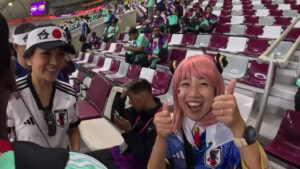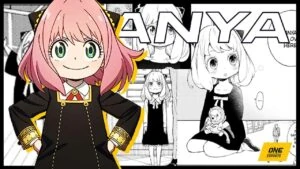 Watch Volpe Where Are You's full vlog here.
Anya Forger is one of the main characters of Wit Studio and CloverWorks' popular anime series, Spy x Family. She is the adopted daughter of Loid and Yor Forger, and is secretly a telepathic kid. Because of her cute and funny antics, many anime fans adore Anya.
Ironically, in the series, Anya lacks athletic ability as seen in episodes 10 and 22, where she failed to throw a dodgeball during her physical education class, and missed hitting a tennis ball while playing with Loid and Yor.
Spy x Family is one of the hottest anime of 2022. It follows the story of Loid, a spy who's dedicated his life to undercover missions for the Westalia Intelligence Services' Eastern-Focused Division (W.I.S.E.). He forms the Forger family as his cover by adopting Anya and making a deal with Yor in order to successfully complete a top-secret mission.
Spy x Family is now airing on Netflix, with new episodes released every Sunday.
Learn more about Japan's anime power at FIFA World Cup, voice actor Mamoru Miyano, and view Uniqlo's Spy x Family collection.
---
Follow ONE Esports on Facebook for more anime news.
READ MORE: Japan wields the power of anime to make FIFA World Cup miracles happen