Jujutsu Kaisen 0 is finally out in the US with English subbed and dubbed releases.
Ever since its release, the animated movie by MAPPA, the same studio that produced season one, has been breaking records around the globe. It first made a massive US$91M at the box office in Japan after its original release on December 24 last year. In Taiwan, it raked in US$592,000 in just one day on February 24.
On top of a successful opening weekend, the film also currently holds a 100% Rotten Tomatoes rating from 22 critics, who praised the movie for its characters, narrative, music score, and animation.
Just how awesome is this movie?
---
---
Jujutsu Kaisen 0 surprises at box office, earns US$17.6M on opening weekend in the US with 100% Rotten Tomatoes rating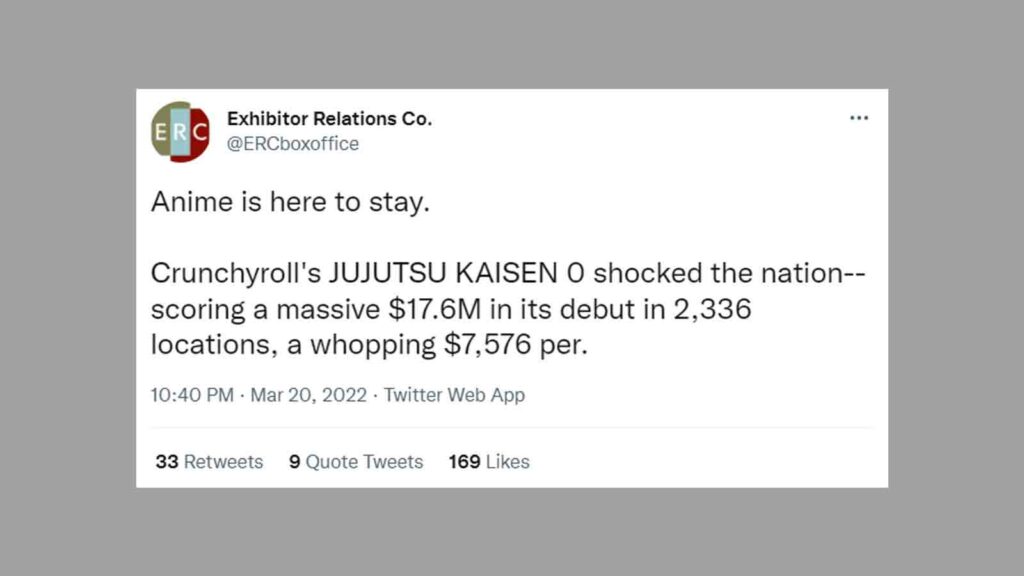 Released in the US on March 18, Exhibitor Relations Co., a box office authority, reported in a Tweet that in its opening weekend, Jujutsu Kaisen 0 made more than US$17 million. It is now ranked second behind The Batman (US$36M), which was released two weeks before on March 4.
Set one year before Jujutsu Kaisen season one, it follows the story of Yuta Okkotsu, a boy haunted by a curse. Supporting characters include teacher, Satoru Gojo, and fellow students Maki Zenin, Toge Inumaki, and Panda.
Surprisingly, the one hour and 50 minute feature was also positively received by top critics in the film industry. Out of 22 reviews on Rotten Tomatoes, it has a 100% Tomatometer rating, which means that every single critic gave it a positive review.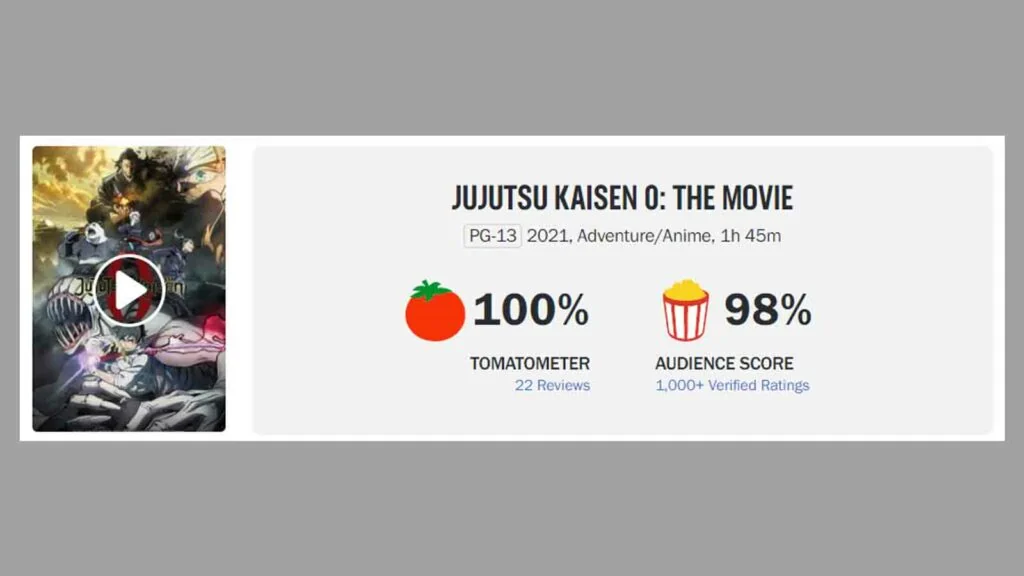 "The animators enjoy depicting imaginative and extreme violence. If that's your thing (and if it isn't, why are you watching this movie?), Jujutsu Kaisen 0 does not disappoint," wrote Michael Ordoña of the Los Angeles Times.
The majority of critics praised the film's beautiful, high quality animation and scenes, its witty dialogue, captivating score, and Yuta as a relatable protagonist to introduce newcomers to Gege Akutami's weird and wonderful world of sorcery.
Read our complete Jujutsu Kaisen 0 movie review here, and watch Jujutsu Kaisen season one on Netflix today.
READ MORE: Jujutsu Kaisen 0 post credit scene explained: Is it linked to the anime?