One Piece creator and mangaka (manga artist) Eiichiro Oda recently made an important announcement.
From June 19 to July 10, he will be taking a four-week break from work to undergo eye surgery due to astigmatism.
This means that no new volumes of the One Piece manga will be published in the Weekly Shonen Jump magazine for about a month. Publication of the One Piece manga will resume on the 33rd issue of the magazine, set to be released on July 12.
---
---
One Piece creator Eiichiro Oda announces month-long manga hiatus to get eye surgery and cure his astigmatism
Oda revealed that he has a severe case of astigmatism, to the point where "all things look blurry" that it hinders his work. He also joked about seeing "a lot of twins these days" in his announcement, translated into English by an avid One Piece fan.
Astigmatism is an eye condition where the front surface of the eye, the cornea, is not round, but instead bends into an irregular shape. This causes light to bend unevenly as it enters the eye, resulting in blurry or distorted vision. People with astigmatism may experience symptoms like blurred vision, eyestrain, headaches, and difficulty seeing fine details.
Since 2022, Oda has been discussing his health condition with his editors, and he has received continuous support and encouragement from his staff. He mentioned that he plans to return with a "new eyesight powerup" after the surgery.
Oda even shared an illustration of Franky, a character from One Piece, shooting laser beams from his eyes as a humorous addition to his announcement.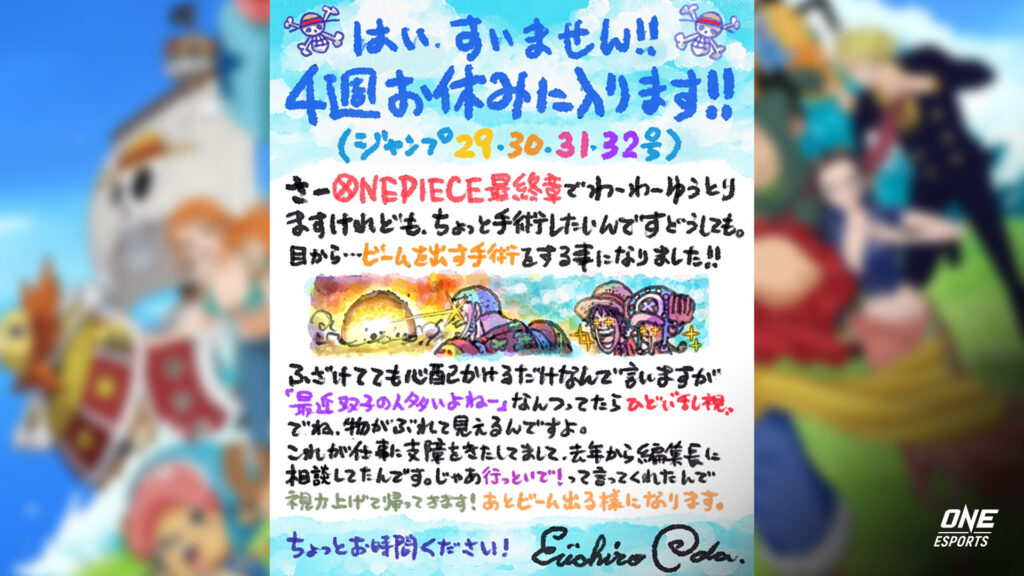 In addition to astigmatism, Oda has briefly mentioned other health issues in an interview published in Weekly Shonen Jump in 2022. He has had to take more breaks while working to manage his weight gain, and has even gone without food for a couple of days. Currently 48 years old, Oda started creating One Piece when he was just 17, almost three decades ago.
He is one of the most popular manga artists of all time, with One Piece as his most notable work. He was awarded by the Guinness World Records for publishing the most copies of the same comic book series in December 2014 after selling 320 million copies. He broke his own record in the same category eight years later after publishing 500 million copies of the manga.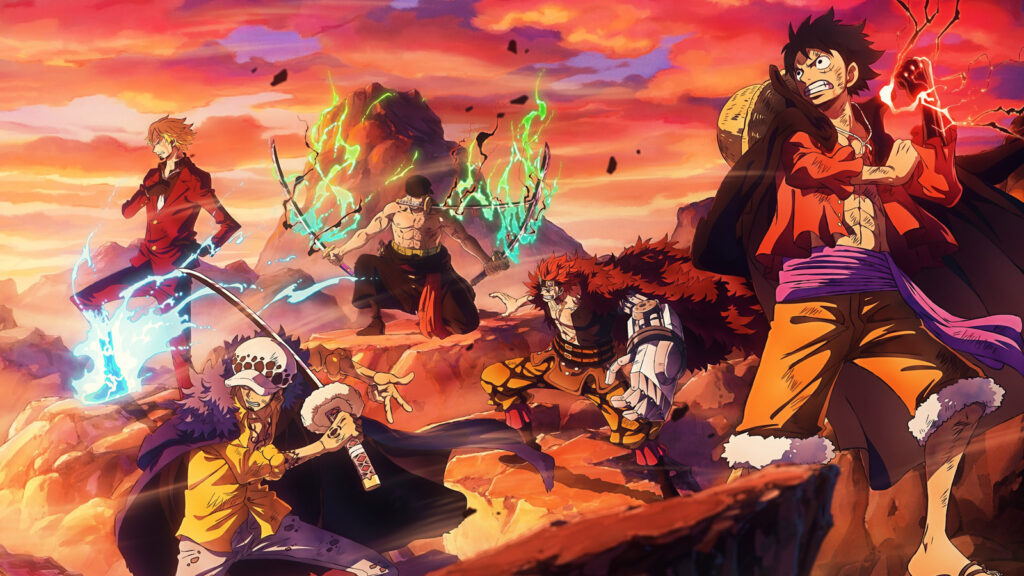 The title is widely recognized as one of the longest-running manga and anime series in the world, with more than 1,000 chapters and episodes. The manga is currently in its 11th main arc, Final Saga, while its anime adaptation is in season 20.
One Piece revolves around Monkey D. Luffy's pursuit of the ultimate treasure called "One Piece," his quest to become the Pirate King, and his relentless dedication to protect his friends and challenge the injustices of the world. The story is filled with action, humor, friendship, and a deep exploration of themes like freedom, dreams, and the nature of power.
---
Discuss stories like these with us — join the ONE Esports Discord community.
READ MORE: Here's an actual idol cosplaying an anime idol from Oshi no Ko