Fnatic are on top of the world right now. They won LOCK//IN São Paulo, sweeping four opponents before edging out LOUD 3-2 to claim the trophy, then dominated Masters Tokyo 2023.
They only dropped one map to Evil Geniuses in the playoffs in the upper bracket final before sweeping the same team in the grand final to take home the trophy.
So far, the only championship that eluded them this year is the VCT EMEA title. Fnatic finished in first place during the regular season with a perfect 9-0 match record, but eventually lost to Team Liquid 3-1 in the grand final to settle for second.
Yinsu "Yinsu" Collins was working on broadcast that day, and looked emotional during the post-game interview — but not because Fnatic lost. In fact, she felt extremely happy for Team Liquid, she tells ONE Esports in this exclusive interview.
---
---
---
Yinsu on her friendship with Redgar and the two times she got emotional about Fnatic
Coming into 2023, Fnatic stuck to the same roster from the year before, one that has been working very well together.
Team Liquid on the other hand, had to rebuild before the start of VCT EMEA after brothers and long-time members Adil "ScreaM" Benrlitom and Nabil "Nivera" Benrlitom departed the organization.
Headlining the new roster are former Gambit Esports Valorant Masters winners Igor "Redgar" Vlasov and Ayaz "nAts" Akhmetshin. Even though the team looked shaky at LOCK//IN, often times not on the same page, they improved throughout the VCT EMEA season, finishing in third place before making an impressive run in the playoffs to upset favorites Fnatic in the grand final.
"I'm very good friends with some of the Team Liquid players. Redgar had such a difficult year last year and I knew what he went through, how hard he's been working," Yinsu recalled. "He had a lot of difficulties and challenges, but he always overcomes them."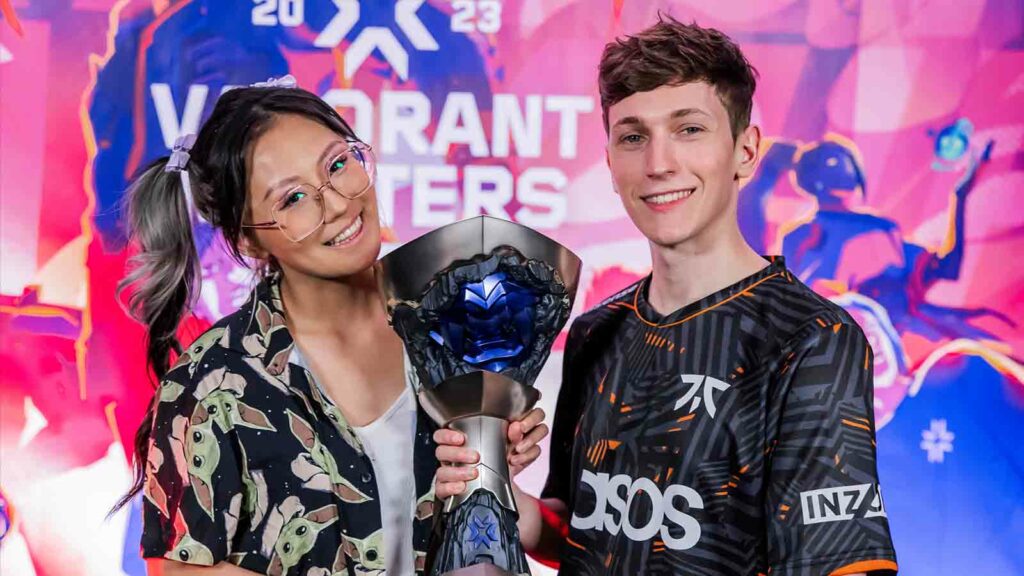 "So when I saw his face when he went over to hug Fnatic — the look of happiness and relief — I got super emotional," Yinsu continued. "I felt so happy for him and I think people don't know that. They wanted to misconstrue that I was sad about Fnatic losing."
She describes Redgar as someone who is "not the kind of player who celebrates and screams." Instead, you'll notice that after talking to his teammates, he'll go over to the other team to hug and console them.
"When Gambit beat KRU at Valorant Champions 2021, Redgar cried. He didn't cry because he won, he cried because he didn't want the game to end. He felt like KRU was such a good opponent, and he felt emotional," she recollected.
That semifinals match between Gambit Esports and KRU Esports was a historic one. On last map Bind in the best-of-three series, Gambit were trailing 1-7 on attack. After switching sides, they fought their way back to tie it up 12-12, forcing overtime until they eventually won 18-16 to qualify for the grand final.
---
---
"Honestly there's only two times in my life where I got sad about Fnatic losing," Yinsu shared. "Actually, I love to be working when Fnatic play because I'm pretty chill. But when I'm not working and they play, then I'm a mess. I can't eat, I can't sleep, I just want to cry. It's really tough."
She cried when they lost to DRX in the lower bracket quarterfinals at Valorant Champions 2022, and another when they lost to "a team that nobody remembers called Ballista."
This was way back in Champions Tour Europe Stage 1 Challengers 3 during the single-elimination quarterfinals where they lost 2-0 to Ballista and failed to qualify for Masters.
"Other than those two times, I've never felt really the sadness. It's more like, 'Oh they lost, it happens'," said Yinsu.
Follow ONE Esports on Instagram and TikTok for more Valorant exclusives.
READ MORE: Exclusive: Learn how to lurk like a Valorant pro from nAts himself