Updated on June 29, 4:25 p.m. (GMT+8): Updated Valorant Premier schedule.
The next phase of Valorant Premier is rumored to start on July 11, with registration extended from four days to one week, according to Valorant dataminer ValorLeaks.
The second release of Valorant Premier is expected to have weekly matches on July 20, and the playoff tournament is rumored to start on August 13. Riot Games has yet to confirm this information.
(To be updated)
Premier was first released in Episode 6 Act 3, and the new mode gave players the opportunity to join the global open beta phase for Valorant Premier.
The time has come to assemble your squad and compete in weekly matches. Depending on how well your team performs, you could be on your way to becoming a Valorant pro.
---
---
What is Valorant Premier?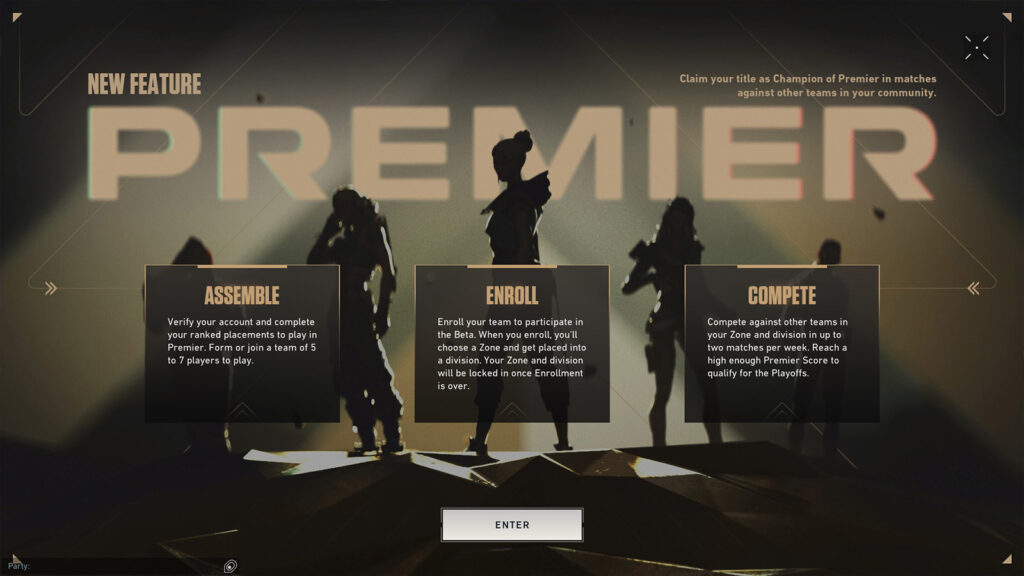 It is a tournament game mode that is available in-game. Players can build a roster and compete in pre-scheduled matches against teams of a similar skill level. Each team will be placed in a division where they'll battle it out for a shot at making it to the playoff tournament.
Matches follow the same rules as the competitive scene, with an emphasis on an online tournament structure. At the highest level, Premier will serve as the replacement for open qualifiers in VCT events.
---
How to sign up for Premier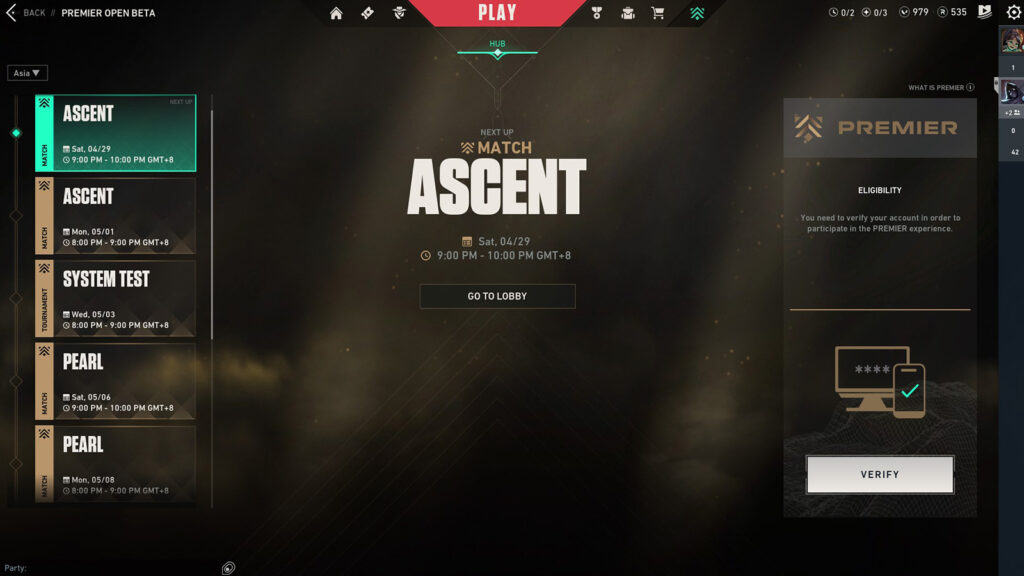 Go to "premier open beta."
Verify your account via SMS.
Create a team.
Enroll your team in your respective region.
To make your account eligible for Premier, just input your mobile number and verify it via SMS. You must also have completed the five competitive placement games required to earn a rank before you can continue with Premier.
Teams that register for Premier most have five to seven players, with each squad having an acting team owner. The team owner will be the one to invite and remove players from the roster, set the team's zone, customize the team logo, and unregister the team.
If the team owner leaves, ownership will be passed to the next player who has been with the roster the longest.
---
Valorant Premier schedule
Players have until April 28 to enroll their team for the first phase of Premier. After the opening week matches, a test tournament will be held on May 3.
Teams will play up to two best-of-one matches set to a predetermined map according to the Riot Games' schedule.
Wins will earn your team 100 points, but you'll still get 25 points when you lose. Teams that fail to compete for whatever reason will gain no points.
Teams that finish with at least 375 points at the end of the season will advance to the playoff tournament on May 21.
Follow ONE Esports on Instagram and TikTok for more Valorant news.
READ MORE: Learn how to quick scope from the best pros in this Valorant guide