It seems that Riot Games really has it out for Valorant's dagger-wielding highflyer after a new set of Jett nerfs were uncovered by the community.
Valorant patch 3.08 initially flew under the radar, as no huge agent changes were made.
The patch focused on quality of life improvements, but according to Riot Games, it included notable nerfs to Jett that they're referring to as 'bugs'.
How did Riot Games' unintentional Jett nerfs persist in Valorant patch 3.08?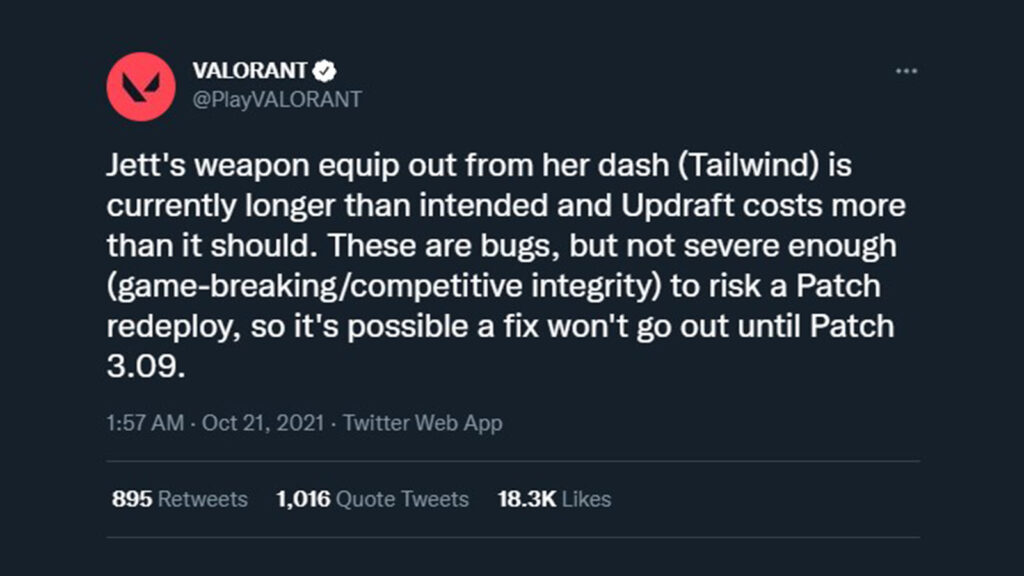 In a tweet by Riot Games, the developer explained that her weapon's equip recovery after her Tailwind dash is longer than intended, and her Updraft costs more than it should. Her Bladestorm ultimate too, takes longer to equip after Updraft.
The developers explained that they uncovered these bugs after rolling out Valorant patch 3.08, and they have no intentions of fixing them until the next patch because the nerfs aren't severe enough.
---
---
Pro players actually want developers to keep the Jett nerfs
Notable Jett mains, including Tyson "TenZ" Ngo, Andrej "babybay" Francisty, and Lucas "Mendokusaii" Håkansson, all agree that Valorant should keep the Jett nerfs from Valorant patch 3.08.
Even Spencer "Hiko" Martin chimed in, hoping that Riot Games would retain the new changes.
The dashing duelist has been nerfed so many times by the developers already, yet she remains one of the most popular agents in both pro and ranked matches.
Sentinels' team captain, Shahzeeb "ShahZaM" Khan, previously stated that Jett is Valorant's major problem, explaining that she is the only agent who can properly use the Operator because of her Tailwind dash.
Despite the sudden and unintended nerfs, players aren't at all discouraged to pick and play Valorant's undisputed speed demon.
READ MORE: VCT NA Last Chance Qualifier returns to online play on October 27