After nearly two years away from competitive play, former Sentinels star Jay "sinatraa" Won will be joining his former teammate Jared "zombs" Gitlin and ex-OpTic Gaming player Jimmy "Marved" Nguyen for an official VCT tournament.
The trio are set to compete in the Valorant Challengers North America Last Chance Qualifier, which begins on January 17. Two teams will advance to the regular season from the LCQ.
Connor "PROD" Moran announced the team on Twitter, adding that he and Coby "dizzy" Meadows would be joining the former pros in their attempt to qualify for the VCT NA Challengers league.
---
---
Sinatraa explains why he decided to play in NA Challengers Last Chance Qualifier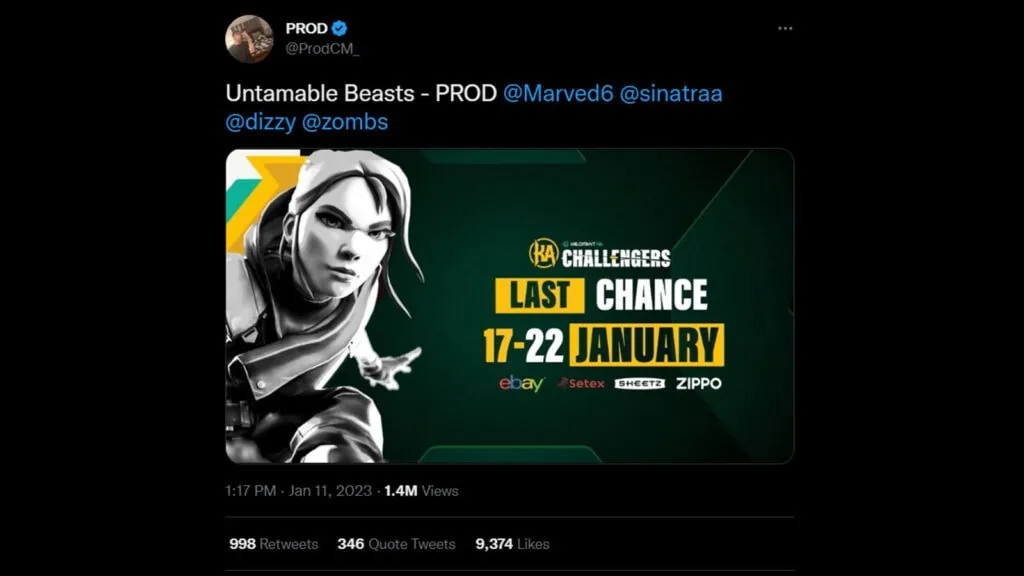 Sinatraa has been out of the professional Valorant scene for nearly two years, since ex-girlfriend Cloe Hernandez accused him of sexual assault in March 2021.
Three months after the allegations came to light, Riot Games suspended him for six months, and the entire investigation was handed over to law enforcement. He has remained a content creator since his career was put on pause, until PROD's sudden announcement.
While most people saw it as his return to the competitive Valorant scene, he made it clear that the NA Challengers LCQ was just a tournament he and his teammates wanted to play in for fun. According to the 2019 Overwatch League MVP, his team will also stream their matches for content.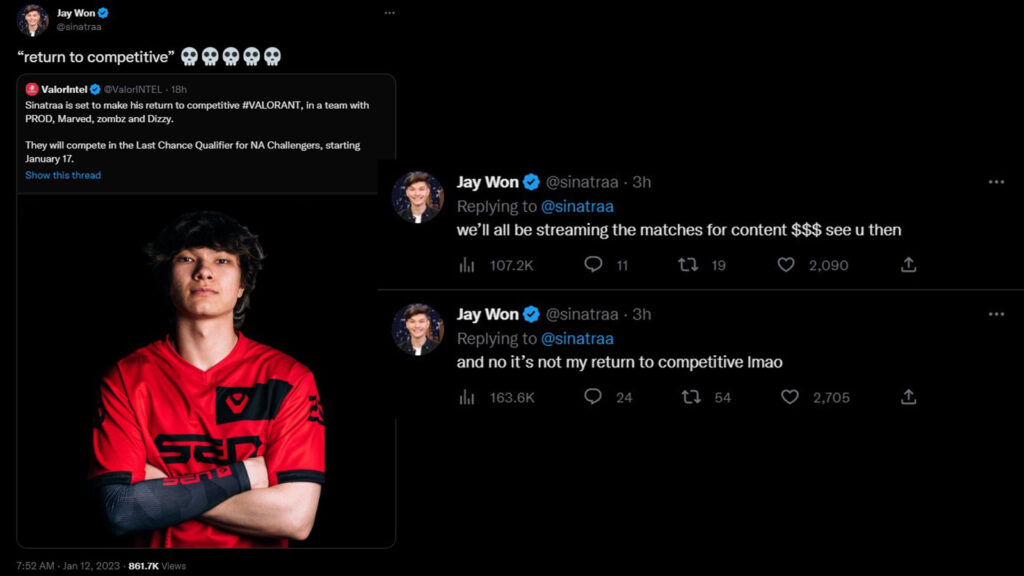 However, some were quick to interpret that statement as creating an excuse for his team ahead of time. "He's just saying that so he doesn't get flamed when they lose. He's gonna be like, 'I didn't try,'" said Twitter user Wurli02.
The 22-year-old was quick to respond, saying that his team would be taking their official matches seriously.
While their goal was not to become a sponsored team, they would still be trying to win, he said.
On paper, the team has what appears to be a decent chance of making a deep run. Zombs and Marved have both won international Masters tournaments, bringing deep experience at the game's highest levels.
Meanwhile, dizzy is a retired Apex Legends pro who was considered one of the best players in the game, even if he has not competed seriously in Valorant.
Sinatraa's contract with Sentinels ended on January 2 this year, and he has yet to sign with another organization. He also clarified that he has no intention of formally returning to pro play any time soon.
"I don't want to come back if it's not perfect," he said on his stream. "It requires a lot of dedication and work. It's not something you randomly just do."
Watch sinatraa's thoughts about going pro in the video below.
---
---
READ MORE: French CS:GO legend Happy is now head coach of a North American Valorant team