Gekko is the latest agent added to the popular Riot Games first-person shooter, Valorant, and he's already drawing plenty of attention for his potential.
The 22nd agent to appear in the game, Gekko hails from Los Angeles and brings a set of skills that lean themselves to being particularly strong in very specific situations according to Cloud9 Valorant player Nathan "leaf" Orf.
---
---
Leaf believes Gekko will shine during late-round scenarios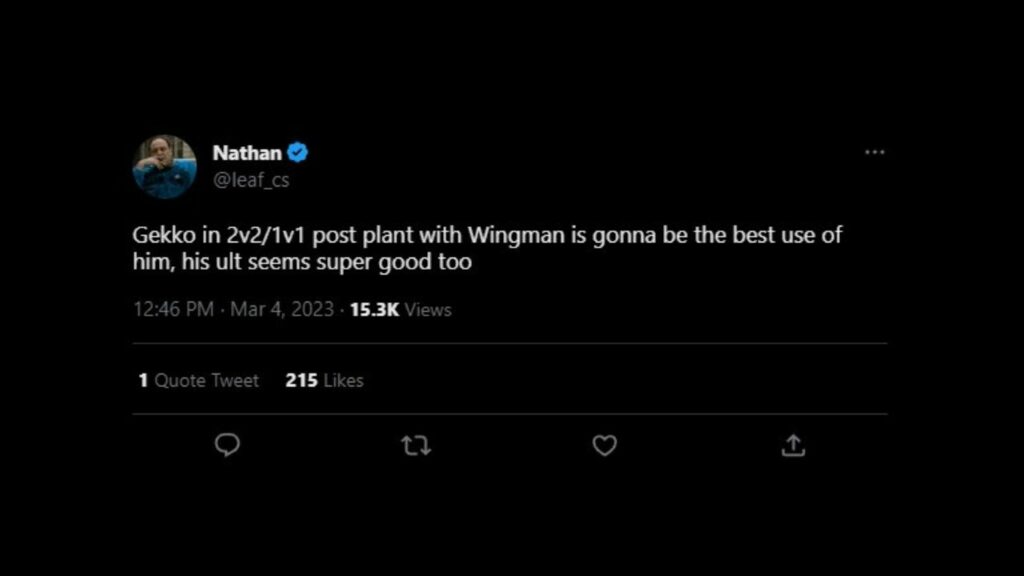 The 19-year-old professional thinks situations in which a player using Gekko is alive in a 2v2 or 1v1 post-plant will be the strongest for the new agent. This is due to the character having his Wingman ability, allowing him to set it to defuse the bomb while he continues to hold angles and take engagements.
The enemy player will instead have to choose between shooting the defusing robot or the play themselves. If the crosshair of the attacker is drawn toward the Wingman, this is when Gekko can easily strike back.
Due to this, having the agent alive and in the action during these types of scenarios will be insanely useful. If you're wondering exactly how to use the Wingman ability, we've got an article explaining it in detail right here.
Leaf isn't the only one who thinks agent 22 will be extremely powerful either. Tarik "Tarik" Celik also believes we had yet to see just how good the character actually is following the showmatch from VCT LOCK//IN.
---
---
During the post-match interview, Tarik said, "I think it's really cool. I think he's actually overpowered." He went on to say that he believes we'll see what the agent's potential ends up being and that he's excited for what the community will be able to come up with the make the most of Gekko.
Either way, it's still early and many players are just starting to figure out how to utilize the agent and the professionals will be testing everything they can think of in scrims. Teams in VCT Challengers will be able to begin officially playing with the initiator in matches on April 8 according to NRG head coach Chet "Chet" Singh.
READ MORE: JessieVash's 8-year-old son in tears after buying Valorant points