It was a sweet victory for Matthew "mCe" Elmore, the head coach of Cloud9 Valorant as his team handed Paper Rex a 2-0 loss at the VCT Lock In in Brazil. He didn't hold back during the post-game press conference when it came to that either, smiling as he said it "feels good to send [Paper Rex] home."
Jordan "Zellsis" Montemurro followed up the statement by saying, "If you weren't going to say it then I was."
If you couldn't tell, there's a little bit of a history there. mCe had been the former head coach of The Guard during their rise through the 2022 season. Ultimately during his previous squad's first big international LAN appearance at VCT Masters in Iceland, they would fall to Paper Rex. Hence the shoutout tweet when his new team sent Paper Rex home.
---
---
Cloud9 Valorant's mCe got his revenge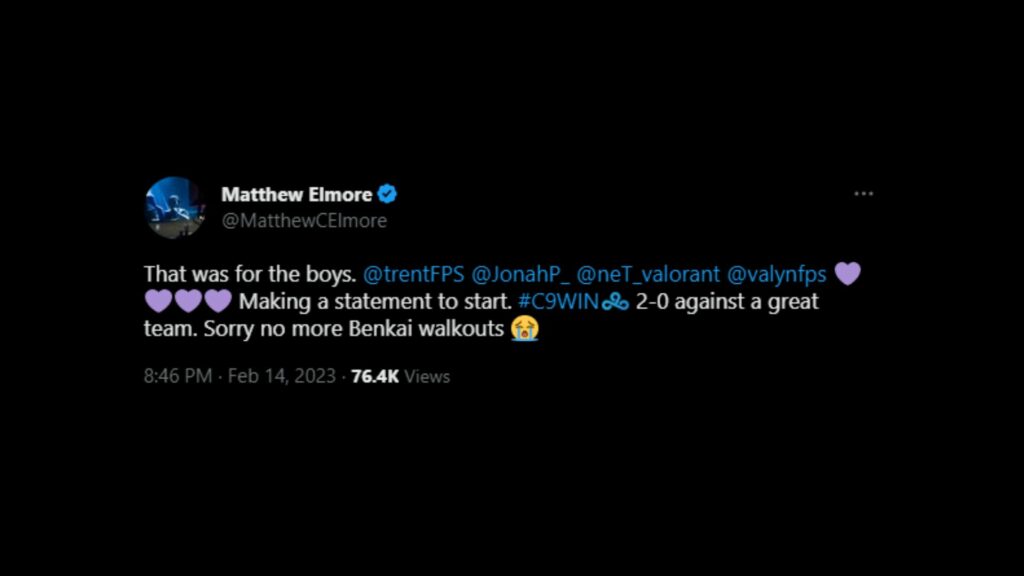 The loss itself may not have been what left the bitter taste in his mouth, however, as it was claimed that Paper Rex was not very courteous after their victory.
"Those guys were not very gracious winners behind the cameras after we got knocked out and I took the higher road on that and didn't say what I wanted to say when I was fist bumping and up there with them," he said in regards to the post-game meeting on stage between the two teams.
Included in the high road is a trip to the next round where Cloud9 will face off against DRX with the loser joining Paper Rex in watching the rest of the event from home. DRX, formerly known as Vision Strikers, was knocked out of Valorant Champions 2021 by Cloud9 so the storylines continue!
READ MORE: All the new Sage wall plays we saw PRX use on Lotus at VCT Lock In