At the VCT Game Changers Southeast Asia: FSL Open VI Playoffs last weekend, defending champions Alter Ego Celeste went up against long-time rivals, Galaxy Racer.
In the best-of-five grand final, Indonesia-based Alter Ego Celeste chose Split in map two of the best-of-five series, where they ran a unique agent composition that did not contain a single duelist.
Yes, we know, it's hard to imagine a world without Jett.
This was the third time they ran this unusual agent composition in the FSL Open VI Playoffs, after debuting it in the first two rounds of the knockout stage.
---
---
Alter Ego Celeste did away with duelists, ran three Sentinels, one Controller, and one Initiator on Split
Galaxy Racer chose Icebox for map one, and though they almost tied it up against the reigning FSL Open champions, they could not close it out with a win.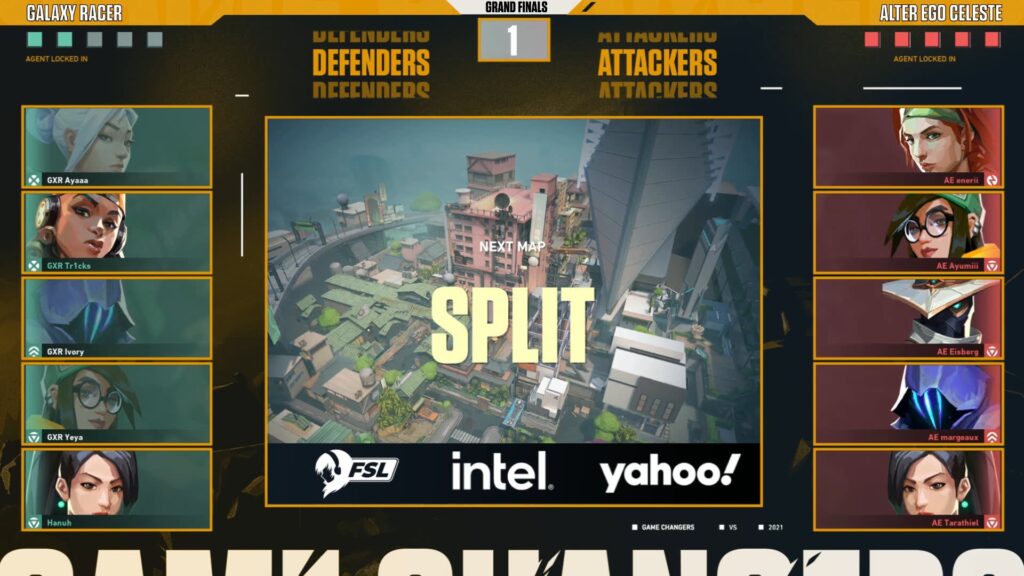 Going into map two, Split is historically one of Alter Ego Celeste's strongest maps alongside Ascent. Surprisingly, in a high stakes grand final match, AEC decided to stick to their no-duelist agent composition. They chose a 3-Sentinel strong comp with KillJoy, Cypher, and Sage, Omen as their Controller, and Skye as their Initiator .
Since Galaxy Racer chose to start on defense, AEC had to start the first 12 rounds on the attacking side without a duelist.
How did Alter Ego Celeste attack without a duelist?
After clutching round one, AEC bought Specters in round two, and attacked Site B again. In formation, they sent four through mid, and one through main.
After Omen used Dark Cover at ropes and at the staircase at heaven, AEC sent out Skye's Trailblazers to push Galaxy Racer back even further. Cypher then dropped a Spycam in heaven, as the team approached the site from above.
While it was costly for AEC to lose four members, Nurul "Ayumii" Aini came in clutch at the end by planting the spike and winning her 1v1 duel.
When it came to attacking A, AEC chose not to clear heaven. They dropped a Cyber Cage to block off ramp, and smoked off window with an Omen-KillJoy molly combo.
From there, all five members moved in to clear the site, then placed a Sage wall at screens to limit their opponent's movements even more.
Taking a commanding lead on the attack, Alter Ego Celeste did not falter, and took map two 13-8 on Split. Both teams then duked it out in an intense battle on Bind that went to overtime, which AEC won 15-13.
In the post-game interview, in-game leader (IGL) Ryona "Tarathiel" Tan gave more insight into Alter Ego Celeste's strategy. "The night before we went up against Wildfire Sphinx, Eisberg, enerii, and Ayumii they called me to tell me, Tara, can we play three Sentinels? We want to play no duelist. They had all the setups, and they presented to me their ideas, and I said sure, just go with it."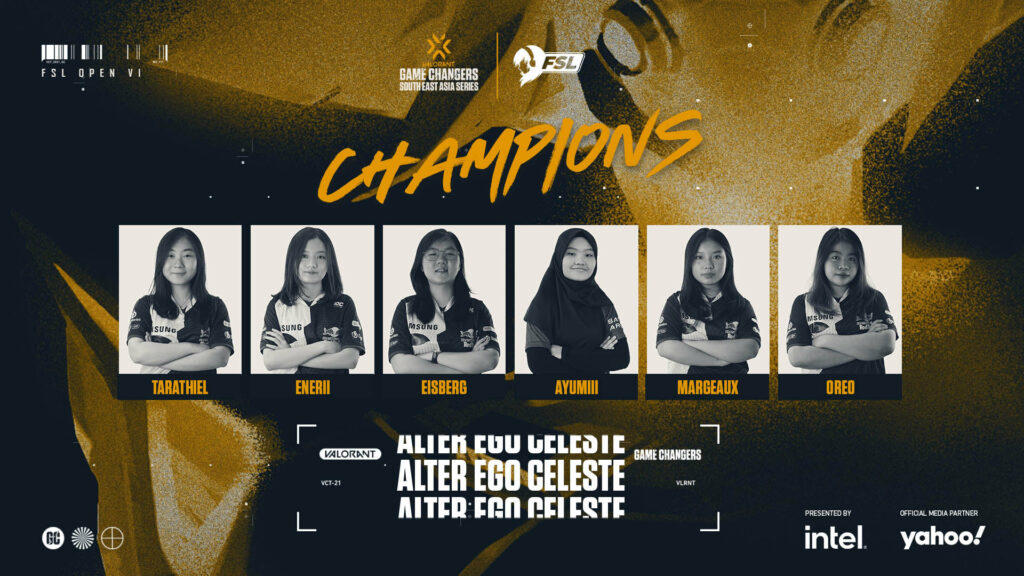 Alter Ego Celeste have won all six FSL Opens in 2021, and four out of five FSL Opens in 2020. With 10 championship titles under their belt, they're looking for another at FSL Elite in October, which they've qualified for alongside Galaxy Racer and Renatus White.
Follow FSL FPS for the latest updates on VCT Game Changers Southeast Asia.
READ MORE: Unbelievable Recon butterfly knife tricks you never thought you'd see IRL