After a stunning match against Execration to open MPLI, Ronin Esports took down EVOS SG 2-1 in the second round to qualify for the Quarterfinals against fellow MPL MM team, Burmese Ghouls.
Coming in hot, Ronin's draft in game one turned heads all around. Causing confusion to fans and analysts, they put Baxia in the jungle and Eudora as support. In an interview before this match, EVOS SG's captain Soul expressed that they were wary of Ronin's "unorthodox playstyles and team compositions".
By the 13th minute, JustiN on Eudora was legendary. Ten kills under his belt, he was nuking EVOS SG's HP bars with just one iteration of spells. A total of 60,153 damage, he was ranked second highest in the game.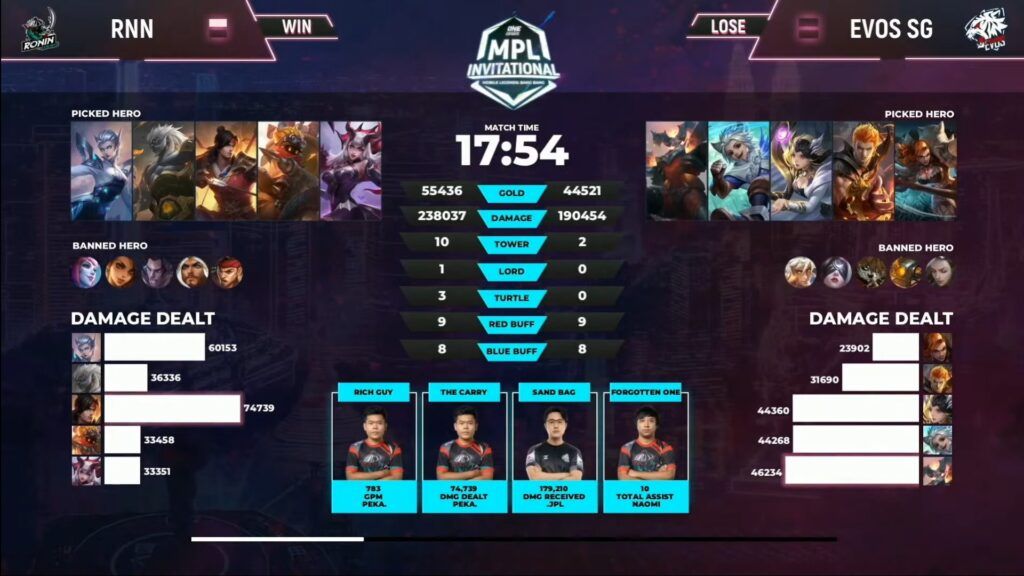 "That's what we prepared. We prepared Baxia jungle. We know that EVOS invades a lot every single game so, we needed to defend with a tank jungler so they don't unwind us," JustiN told ONE Esports.
Though they were hoping to carry on the momentum with the same two heroes, Ronin, unfortunately, fell to the Singapore representatives in game two. With a draft that countered their lineup, Ronin found it difficult to comeback that game.
---
---
"We played the same playstyle as in game one, so they countered. They camped me out with three or four [members], so our jungler died and we lost EXP and gold and had to give up the game," explained JustiN.
Tied 1-1, the last game was anybodys for the taking. According to the mage player, Ronin intentionally changed their playstyle again to 1-3-1 with an assassin jungler, Hayabusa. JustiN said that he and Naomi went out to "annoy the enemy's jungle so they can't farm".
Eventually, it was Savi's Yu Zhong that allowed the team to take a leap forward. Utilizing his positioning, he won two key team fights in the mid lane for the series win.
Next stop, Ronin Esports will face their rivals Burmese Ghouls in the quarterfinals. The last time they met in the MPL MM S5 grand final just one month ago, Ronin were swept 0-3.
When asked what Ronin will do differently this time, JustiN laughed, "I think I'm not going to say that. Yeah, that's a secret. We need to find the strategy and flow first."
One thing is for sure — Ronin will do their best. Calling out his opponents, JustiN only had six words to say, "Hey Burmese Ghouls, we are coming!"
He also wanted to take the opportunity to thank the fans for their incredible support. "Keep supporting us guys, Ronin or Burmese Ghouls, we represent Myanmar. So support Myanmar guys!"
READ MORE: Mobile Legends global power rankings: MPLI Edition Week 2