In the last series of Day 2 of the ONE Esports MPL Invitational, EVOS SG were Singapore's only representatives left after RSG were eliminated by Blacklist International earlier in the day. Since EVOS Legends were swept by Alter Ego in the series before, they were also the sole EVOS team standing.
With a lot of hope riding on them, EVOS SG managed to prevail against fellow MPL MY/SG representatives Orange Louvre Esports 2-1 to stay in the competition.
It was not easy however, for game one was reminiscent of their series against Todak in the MPL MY/SG Season 6 grand final.
EVOS SG played the early game so well. They found immense momentum and were literally running away with the game thanks to JPL's Jawhead. Up 21 kills to nine, EVOS SG still could not close out, and let victory slip into the hands of their opponents.
"We did it again because we were impatient. The nerves got to us again. We tried to end the game quickly and move on to game two, and it backfired," EVOS SG team captain Stefan "Soul" Chong Ru Chyi told ONE Esports.
Though it was a painful loss, the team persevered. One of the few squads at MPLI that did not change their roster, EVOS SG managed to calm themselves down. "We know that as long as we play our best game, we should win from early. We just had to be more patient," said Soul.
---
---
With steady hands, the veterans went on to win game two, and put on a solid performance in game three — up until the 11th minute. When EVOS SG attempted to push into Orange's base for the first time in the game, it did not go well.
"We tried too hard to stop Pharsa's ultimate because as long as we stop it, we were quite sure that we could break the tower down. We tried too hard. They actually got most of the wave, so we were all trapped inside," recounted Soul.
At that point, Orange had the potential to swing the game around. EVOS SG, however, managed to pull through as a team by telling each other "it's okay, we'll respond in 25 seconds and then we'll regroup".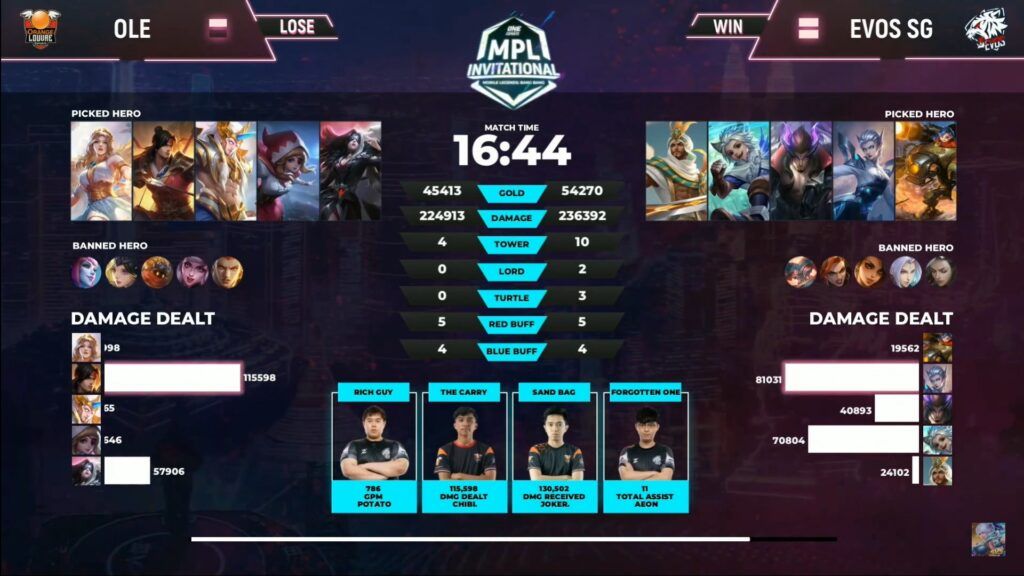 As captain, Soul does the primary strategy and planning for his team. With patch 1.5.28 hitting before MPLI, pro players have been banning Barats and Benedetta while leaving a recently nerfed Brody open, especially on red side.
"If teams don't decide to ban them, it will be a crazy trade between two teams, " Soul explains. "Blue side can force out the mandatory bans of OP heroes, and it will be quite messy and hard to predict for the red team."
Going up against Ronin Esports in the next round, EVOS SG will have to deal with Burmese team that stunned Execration 2-1 in the opening match.
"I'll try to be more alert. If they have trouble trying to pick me off [in the side lane], I believe it will give my team enough space to take over the other side," Soul deliberated. "Having said that, we have scrimmages against them during MPL. They're known to play very unorthodox playstyles and team compositions so it's going to be quite hard to predict, and we'll just have to react well."
READ MORE: EVOS SG prevails over Orange Louvre Esports to end MPLI Day 2