Two teams will represent MPL Myanmar at the ONE Esports MPLI Invitational: Reigning champions, Burmese Ghouls, and runners up, Ronin Esports.
Burmese Ghouls – MPL Myanmar Season 5 Champion
Burmese Ghouls have dominated MPL Myanmar since its inception, winning four championships in five seasons. The only championship they failed to win was in Season 2, when they were runners up to Team Resolution.
Last season, after finishing second in the regular season, Burmese Ghouls turned it up in the playoffs, defeating league leaders, Ronin Esports, 2-0 in the Upper Bracket Final, and then beating Ronin again, 3-0, in the Grand Final to capture their fourth championship.
For MPLI, Burmese Ghouls will be fielding the same roster they won Season 5 with:
ACE
KID
Rubydd
Dee
MayBe
ICEICE
While the entire team is stacked with talent, look out for Dee, who was voted MVP in the Season 5 grand final.
Ronin Esports
Along with Burmese Ghouls, Ronin Esports was one of the top teams in MPL Myanmar Season 5, and actually finished the regular season in first place after defeating Burmese Ghouls 2-0 in the final match of the season.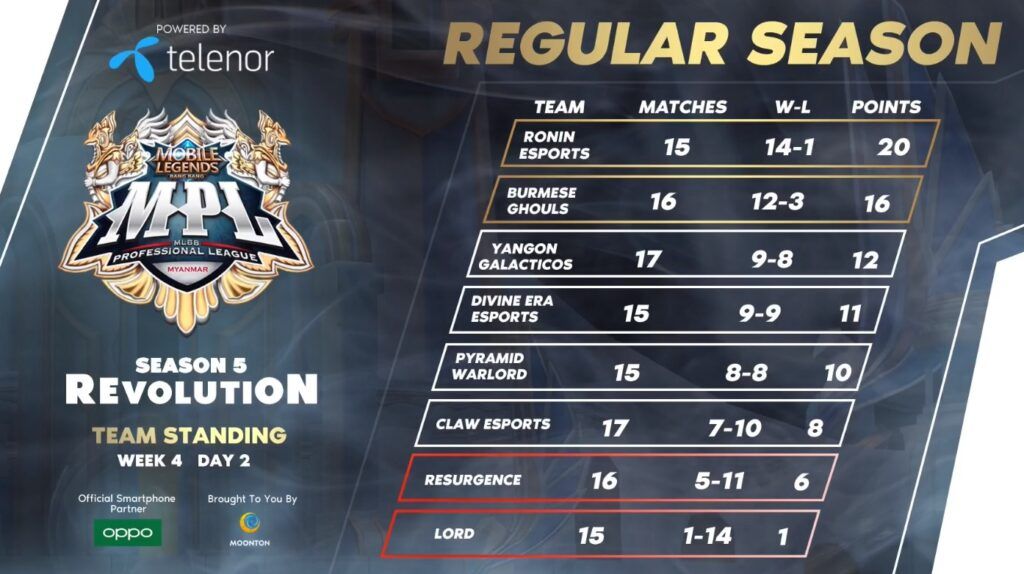 In the playoffs, Ronin lost to Burmese Ghouls in the Upper Bracket Final, but defeated Yangon Galacticos 2-1 in the Lower Bracket Final to make it to the Grand Final.
Unfortunately, they were swept 0-3 by Burmese Ghouls in the Grand Final, despite an incredibly close game three that could have easily gone either way.
Like Burmese Ghouls, Ronin will be fielding the same lineup they used throughout MPL Myanmar Season 5:
Peka
Naomi
Silent
Justin
Savi
As the only other representative from Myanmar, Ronin will definitely be looking for revenge against Burmese Ghouls, as well as a chance to prove themselves against pro teams from the other MPL leagues.
The MPL Invitational starts with the live draft, this Wednesday, November 18.
The tournament itself begins on Friday, November 27, and will span two action-packed weekends with the finals culminating on December 6.
Be sure to bookmark our event site to stay up to date on the ONE Esports MPL Invitational
READ MORE: Win Balmond Savage Pointguard by showing support for your favorite MPLI team