Moonton's Project: NEXT initiative has ushered in numerous heroes and battlefield changes since it was announced in 2020. But the biggest to date is probably its brand new Talent System — a replacement for the existing emblem system that will arrive on the live server sometime in September.
According to the developers, the new talent system will give players even more customization options before entering the battlefield.
The new system will also introduce a new resource, eliminating the need to save up battle points and fragments for an upgrade.
While Moonton has yet to reveal the new talents in detail, it has given fans a sneak peek of how it will work in their Project: NEXT Express update video on YouTube.
---
---
Mobile Legends' new talent system will replace the current emblem system
The old emblem system is tied to fixed attributes, leaving very little room for customization. According to Moonton, the new system will be more versatile and will have a much greater impact on each and every match.
In the new system, players will be able to change their loadout after they lock in a hero. There will also be talent recommendations and pro player builds, similar to the existing pro item build system that lets players replicate the builds of top players.
At the same time, different talent plans will be available, allowing you to tailor them to your needs and playstyle. Moonton will gift players specific talents as well, so they can flesh out at least one plan without having to worry about unlocking them.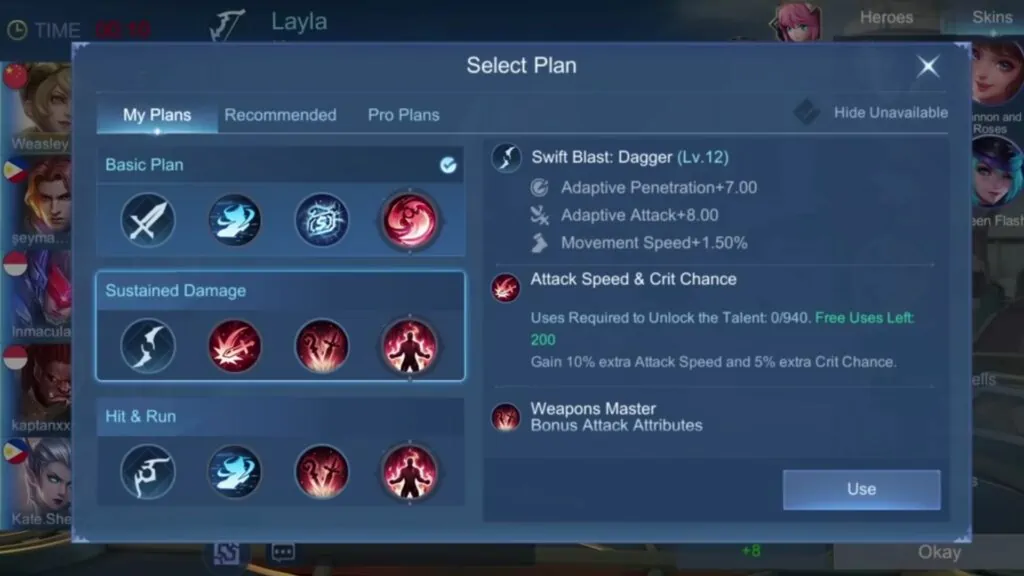 The new talents will comprise brand new and rehashed talents from the old system. According to recent data from the advanced server, emblems such as Concussive Blast and Killing Spree will be making a return. At the same time, new talents like Cosmic Blitz are being introduced, summoning a meteor after every skill, while Fatal Snare reduces enemy movement speed with basic attacks.
Lastly, magic dust and emblem fragments will be removed from the game and will be replaced with a new resource called talent essence.
However, Moonton says that the hard work and investment players have put into maxing their emblem sets will not be put to waste. After the update rolls out next month, all battle points, tickets, fragments, and magic dust used in previous upgrades will be converted to talent essence.
For a small amount of talent essence, players will then be able to permanently unlock talents through the talent activation feature.
The goal is to make the system more accessible to players. In the past, it has often been a struggle to acquire enough fragments or magic dust to fully upgrade each emblem.
Lastly, the entire interface will also be redesigned to give it a more modern, visual upgrade.
---
---
The talent system will be released alongside the Gusion and Lesley rework, and the tower and magic sentry update.
Follow ONE Esports on Facebook for more Mobile Legends: Bang Bang news, updates, and guides.
READ MORE: League of Legends streamer Cowsep reaches Mythic in MLBB in just a month