ECHO's Karl "KarlTzy" Nepomuceno has proven once again that he's one of the best junglers in competitive Mobile Legends: Bang Bang.
ECHO concluded its Week 6 campaign in Mobile Legends: Bang Bang Professional League Philippines Season 10 (MPL PH Season 10) with a bang after they won against Smart Omega, 2-0.
The team's jungler, KarlTzy, had the most impact on the series' victory. Using Julian in both games, he led the Orcas to one of the best performances on the hero, including a miraculous last stand in their crystal against four members of Omega in the first game.
---
---
KarlTzy gets four members of Smart Omega in what could be the best base defense in MPL PH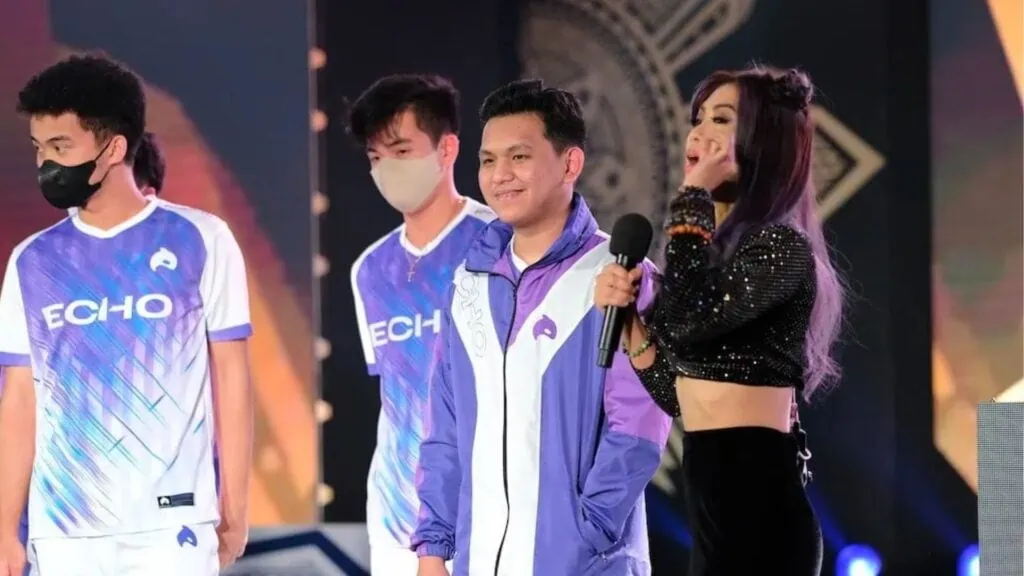 Fans were immediately treated to a back-and-forth affair in the first game. Both teams were trading kills and objectives up until the 20-minute mark when Smart Omega caught three members of ECHO in a messy team fight, including KarlTzy's Julian, the team's main damage dealer.
The two remaining members then retreated to the base, but were eventually caught. All five members of Omega were closing in the top and midlane. Just as four members were already hitting ECHO's crystal, KarlTzy arrived just in time to stun all four members with Enhanced Chain.
With all four enemies to the ground, the M2 World Champion MVP attacked them all at once with his basic attacks, bursting them down and getting a Maniac with less than 50 percent health remaining on the crystal.
Sanford "Sanford" Vinuya's Paquito, Benedict "Bennyqt" Gonzales' Claude, and KarlTzy then immediately rushed down in the midlane to end the game. Omega's only remaining member, Patrick "E2MAX" Caidic, tried to defend the base on Esmeralda, but failed to do so. With no members remaining and the crystal exposed, ECHO secured a miraculous victory in the first game.
ECHO rode on last game's momentum into the second game. This time, it was Tristan "Yawi" Cabrera in the spotlight on Chou. Aside from applying pressure all throughout the game, he was able to set up excellent team fights with his well-calculated Way of the Dragon ultimate on squishy heroes.
KarlTzy picked Julian once again in the second game, finishing with a 7/1/7 KDA in a 16-5 kill score match.
With the win, ECHO are now second on the standings with an 8-2 score. They only need one more point, or one match victory in the remaining two weeks, to qualify for the playoffs. They will face TNC next, who are already eliminated from playoffs contention, on September 24, Saturday, at 7:30 p.m. GMT+8.
Follow ONE Esports on Facebook for more Mobile Legends: Bang Bang esports news and updates.
READ MORE: Revamped ONIC PH squad is first MPL PH team to secure playoffs slot