A real estate entrepreneur, a yoga instructor, and now a photographer? Is there anything that this man can't do?
T1 veteran Lee "Faker" Sang-hyeok always finds the time to pick up a new hobby, even during an international tournament.
While hanging around a team photoshoot during the League of Legends Mid-Season Invitational (MSI 2022), T1 Faker pulled out his phone and went above and beyond to photograph his teammates.
As the veteran on the squad, Faker does his best to put the spotlight on his younger teammates. In a previous vlog, he even spoke to Choi "Zeus" Woo-je about what it takes to become a superstar.
---
---
T1 Faker becomes the unofficial team photographer during MSI 2022 photoshoot
After spotting Zeus casually posing for a picture, Faker walked into the scene as the new head photographer. The player's photo composition was impressive, framing Zeus between two trees and taking shots from different angles and orientations.
No stranger to player photoshoots, Faker tossed a few familiar phrases that helped him get the best shot. The team shutterbug inched closer and closer to Zeus, telling him to keep his "shoulders straight" and to "stand tall."
Funnily enough, after the photoshoot, Faker forgot to show the young player how the photos turned out.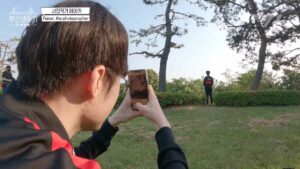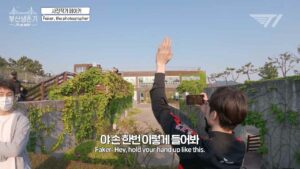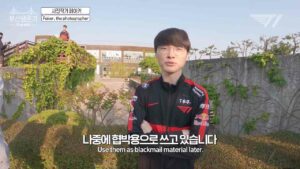 Faker went on to snap photos of anyone else he could find, including the actual photographers, the rest of the squad, and even his former teammate Bae "Bang" Jun-sik.
When asked about where he would post the pictures, his answer was quite hilarious. "I keep them and use them as blackmail material for later," said Faker with a smile.
All jokes aside, the T1 star said that he keeps the photos and uploads them on special days. While this might be one of the few moments where he's openly displayed his love for photography, Faker has been saving his shots since 2016.
Faker photobook soon? Let's hope so.
T1 will face G2 Esports tomorrow in the MSI Knockout Stage at 5 p.m. GMT+9 | 4 p.m. GMT+8 | 8 a.m. GMT | 1 a.m. PDT. LoL fans can catch all MSI 2022 matches live on Riot Games' official channels on Twitch and YouTube.
You can check out the full T1 vlog down below:
---
---
Follow ONE Esports on Facebook and Twitter for more LoL news, guides, and highlights.
READ MORE: T1 Faker is ready to carry with his brand new US$1,700 Gucci backpack