LoL Esports came bearing good news with the introduction of the new, unified region, League of Legends EMEA Championship.
The launch renamed the League of Legends European Championship (LEC) to the LoL EMEA Championship, which merges Europe with Turkey, the Commonwealth of Independent States (CIS), and the Middle East and Africa (MENA).
The regional league, Amazon EU Masters, has also been renamed to EMEA Masters and will feature the best teams from the new ERL (EMEA Regional League) circuit. Two new leagues will be joining the EMEA Regional Leagues — the Türkiye Championship League (TCL) and Arabian League, previously Intel Arabian Cup (AL).
These changes mean a lot, especially for the LEC, the pinnacle of the new EMEA esports ecosystem.
---
---
New EMEA ecosystem will allow resident players to compete in the LEC without penalties
All players that have residency status in Europe, Türkiye, CIS, and MENA can now compete freely in the LEC and will not be subject to the Interregional Movement Policy. This opens new opportunities for up-and-coming names in the minor regions.
What is the Interregional Movement Policy in League of Legends?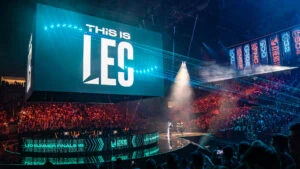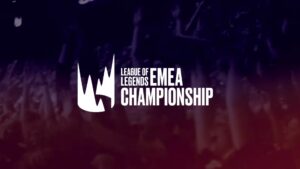 The Interregional Movement Policy (IMP) is a rule implemented by Riot Games on teams that are playing in major regions. Under the IMP, teams should have a maximum of two non-resident players on their starting rosters.
Throughout the years, several players started in the ERL and climbed their way to the LEC, some of which include Javier "Elyoya" Prades Batalla from SuperLiga, İrfan Berk "Armut" Tükek from Turkish Championship League, and Adrian "Trymbi" Trybus from Ultraliga.
"In 2022 alone, five of the 10 finalists in both Spring and Summer splits were graduates of the ERL system," League of Legends EMEA Championship said on their website. "We've seen time and time again just how important the ERL talent pipeline is in growing the next generation of LEC stars."
Here is an overview of accredited and non-accredited ERLs in the region:
TYPE
ERLs
Accredited ERLs
SuperLiga (Spain, Andorra)
Prime League (Germany, Austria, Liechtenstein, Switzerland)
Türki̇ye Championship League (Türki̇ye, Azerbaijan, Mongolia, Tajikistan, Turkmenistan, Uzbekistan)
La Ligue Française (France, Monaco)
Ultraliga (Estonia, Georgia, Latvia, Lithuania, Poland, Ukraine, Israel)
Non-accredited ERLs
Northern League of Legends Championship (UK, Ireland, Sweden, Finland, Denmark, Norway, Malta, and Iceland)
EBL (Albania, Bosnia and Herzegovina, Bulgaria, Croatia, Hungary, Montenegro, North Macedonia, Romania, Serbia, Slovenia, Kosovo, Moldova)
Elite Series (Belgium, Netherlands, Luxembourg, (incl. Caribbean Dutch Islands, Aruba and Curacao)
Liga Portuguesa de League of Legends (Portugal)
Greek Legends League (Greece, Cyprus)
Hitpoint Masters (Czech Republic, Slovakia)
Arabian League (Algeria, Bahrain, Egypt, Iraq, Jordan, Kuwait, Lebanon, Libya, Morocco, Oman, Palestine, Qatar, Saudi Arabia, Tunisia, United Arab Emirates)
---
Follow ONE Esports on Facebook and Twitter for more LoL news, guides, and highlights.
READ MORE: Full list of League of Legends Worlds winners throughout the years