The League of Legends Champions Korea (LCK) is making big changes for the 2023 season.
The LCK will introduce a new double-elimination competitive format for its Spring and Summer playoffs. The league previously went with a single-elimination king of the hill bracket — present since its first tournament in 2012 — that saw teams get eliminated after just one loss.
---
---
LCK introduces new double elimination playoffs for 2023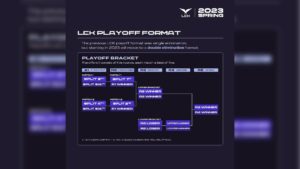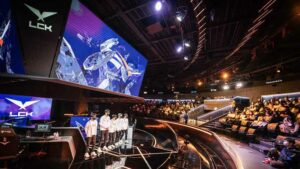 The league's 2023 playoffs will now consist of five rounds played in best-of-five matches. Similar to the 2022 format, only six teams qualify for the playoffs.
In the first round, the third seed chooses its opponent, either the fifth or sixth seed. The seed that is not picked will be slotted in as the fourth seed's opponent in the other first round match.
The lower bracket is only present in the third round, so two teams will still face elimination in the first round.
Round two has a similar setup, with the first seed choosing the opponents from R1 winners. The winners of round two advance to the winner's final, while the losing teams drop to the lower bracket.
The upper bracket final will determine the first team to make it to the grand final. The losing team faces the victor of the first lower bracket match in the lower bracket final.
The winner of the lower bracket final then advances to the grand final, where they'll face the upper bracket final winner to contest the championship trophy.
The LCK is the last of the four major regions to implement double elimination playoffs. LEC and LCS were the first to utilize the format in 2020, with the LPL following suit just a year after.
---
The league will also be testing out integrated rosters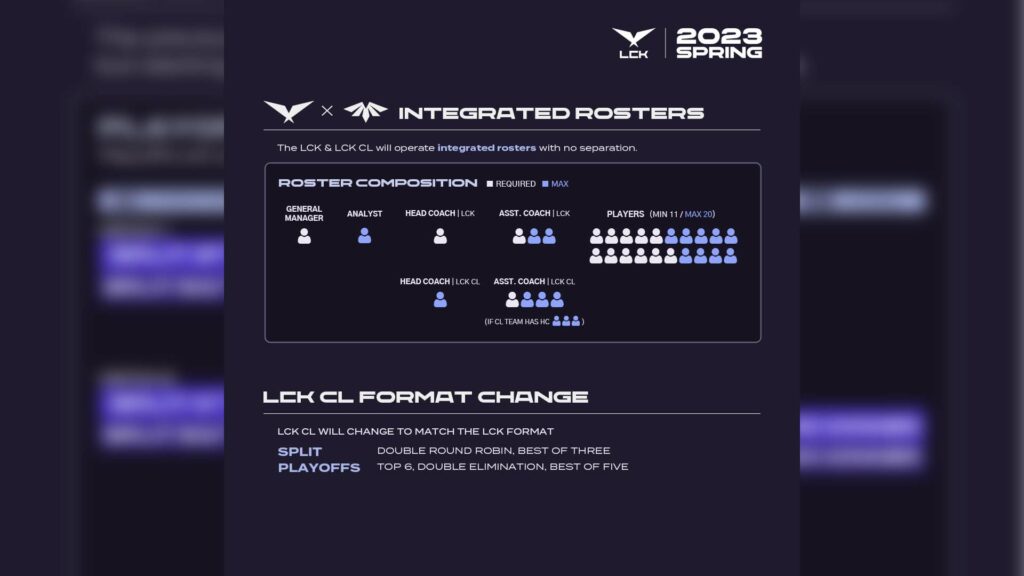 The LCK and its developmental league will operate integrated rosters for the 2023 season. This will eliminate the procedure of announcing in-team roster changes, allowing teams to operate with more flexibility.
Organizations will have the opportunity to rotate 11-20 players under one head coach. While CL head coaches will be optional, a team will be required to have at least one assistant coach in the developmental league.
The introduction of integrated rosters will also see a slight change in the distribution of player salaries. Each team must pay KR₩ 60 million (US$44,000), the minimum annual salary of an LCK player, to at least five of the players and KR₩ 20 million (US$15,000), the minimum annual salary of an LCK CL player, to the rest of the roster.
LCK CL will lower the participation age from 16 to 15 to allow more prospects to participate in official matches.
The developmental league will also adopt the LCK competitive format, which consists of a double round-robin split with best-of-three matches and double elimination playoffs with best-of-five matches.
Follow ONE Esports on Facebook and Twitter for more LoL news, guides, and highlights.
READ MORE: DWG KIA parts ways with Nuguri, kkOma, and head coach Daeny