It's not every day that you see a cardboard standee win a Player of the Game award.
Prior to Liiv SANDBOX's match against DWG KIA in Week 8 of the League of Legends Korea Champions (LCK) Summer Split, LSB Prince tested positive for COVID and had to play remotely from his home while a cardboard standee took his place in LoL Park.
Despite having a high fever, Lee "Prince" Chae-hwan put up an impressive game two performance, slicing DWG KIA up with marksman champion Sivir.
LSB Prince cuts down DWG KIA with Sivir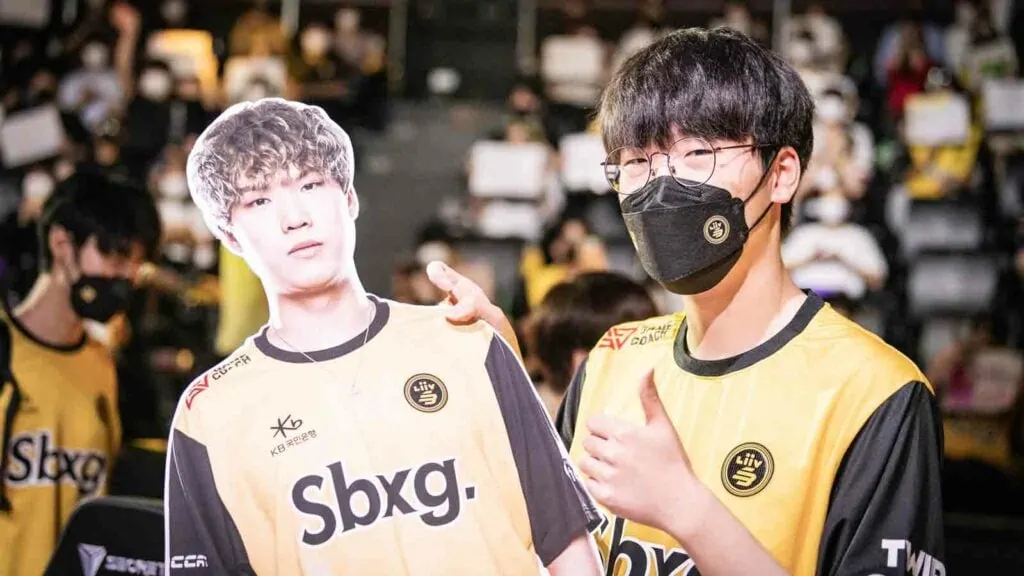 LSB Prince was exceptional in creating space and kiting out enemy champions.
During a mid lane skirmish, the Sivir player took down Yoon "Bible" Seol's Alistar with a barrage of auto attacks, and secured a double kill by catching Heo "ShowMaker" Su's Galio with the tip of Boomerang Blade.
---
---
Now at Soul Point, LSB engaged DWG KIA once more at the dragon pit. After Kim "Croco" Dong-beum's Wukong stole the Hextech Drake, LSB Prince stood outside of the pit to target the retreating members.
Prince utilized Sivir's passive, Fleet of Foot, to auto-attack Bible and chase down ShowMaker for the triple kill.
---
---
---
The AD carry feels that Liiv SANDBOX performs better when he's sick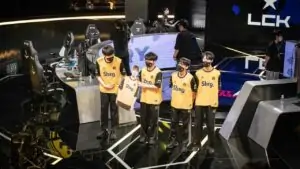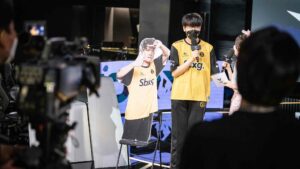 After LSB closed out the series as a sweep, Prince received the Player of the Game award for game two with nine out of 13 votes. The AD carry now shares the top spot of the POG standings with Gen.G's Park "Ruler" Jae-hyuk and T1's Choi "Zeus" Woo-je at 1,000 points.
The victory finally breaks Liiv SANDBOX's 11-game losing streak against DWG KIA (KeSPA Cup included), becoming the third team to qualify for the 2022 LCK Summer playoffs.
LSB Prince had nothing but praise for his teammates during the post-match interview. "I think the top side of our team plays better when I'm ill. Their form and gameplay was so good. I loved it today," he said.
Support Kim "Kael" Jin-hong, who won the POG award for game one, plucked at the heartstrings of fans with one of his answers. While Kael was glad that Prince was recovering from his illness, he felt lonely without the AD carry by his side.
Liiv SANDBOX now holds 10-5 record and will face KT Rolster on August 6 at 8 p.m. GMT+9 | 7 p.m. GMT+8 | 11 a.m. GMT | 4 a.m. PT.
Follow ONE Esports on Facebook and Twitter for more LoL news, guides, and highlights.
READ MORE: Exclusive: Even ShowMaker gets emotional after losses — this is how he bounces back