LGD Gaming mid laner Chen "Jay" Bo has been given a lifetime ban from professional League of Legends events after he was found guilty of match-fixing and illegal organized betting, the LPL announced on April 8.
Additionally, he will not be allowed to livestream League of Legends on any platform.
The investigation into Jay began on April 5, after an anonymous netizen posted screenshots of him talking to another party about receiving money for intentionally losing matches.
---
---
LGD Jay permanently banned from Tencent and Riot competitions for match-fixing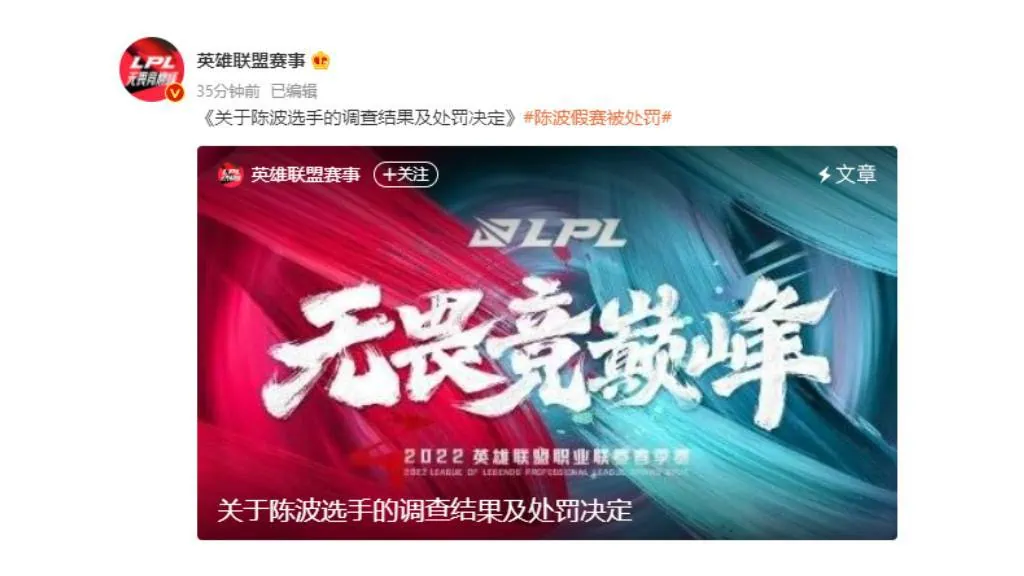 The league announced on Weibo that Jay was found guilty of improper behavior that affected the fairness of LPL games, as well as illegal organized betting on League of Legends events.
LGD wrote in an announcement today confirming Jay had participated in match-fixing and supports the league's decision to ban him. He has been dismissed from the organization and it reserves the right to take legal action against him, it said.
No punishment was imposed on LGD Gaming as it "took the initiative" to report the incident to the league. It also cooperated with investigations and provided evidence in a timely manner, the league said.
LPL assured that anyone found to have broken the rules will be punished, and such behaviors cracked down on, in order to ensure the fairness of esports events as well as the healthy development of the esports ecosystem.
The LPL playoffs, which were postponed to April 12 due to the ongoing COVID-19 outbreak in Shanghai, will not be affected by this ruling as LGD did not qualify for the playoffs. The team finished 16th out of 17 teams during the LPL Spring 2022 season with a 3-13 match record.
READ MORE: Top 4 in LPL Spring playoffs decided, only one will go to MSI