Updated at April 8, 8:45 p.m. (GMT +8): LPL has permanently banned Jay from participating in any Tencent or Riot Games events. He will not be allowed to stream League of Legends on any platform either.
LGD mid laner Chen "Jay" Bo is facing investigations from both the LPL Disciplinary Committee and his organization for alleged match-fixing.
The inquiries come after an anonymous netizen leaked screenshots where Jay appeared to be talking to another party about receiving money for intentionally losing matches.
The 22-year-old joined the organization last December during the offseason but has not found much success with the team.
LGD has had a dismal showing so far, finishing 16th out of 17 teams in the LPL Spring 2022 regular season with a 3-13 match record.
---
---
Netizen leaks screenshots implicating LGD Jay in match-fixing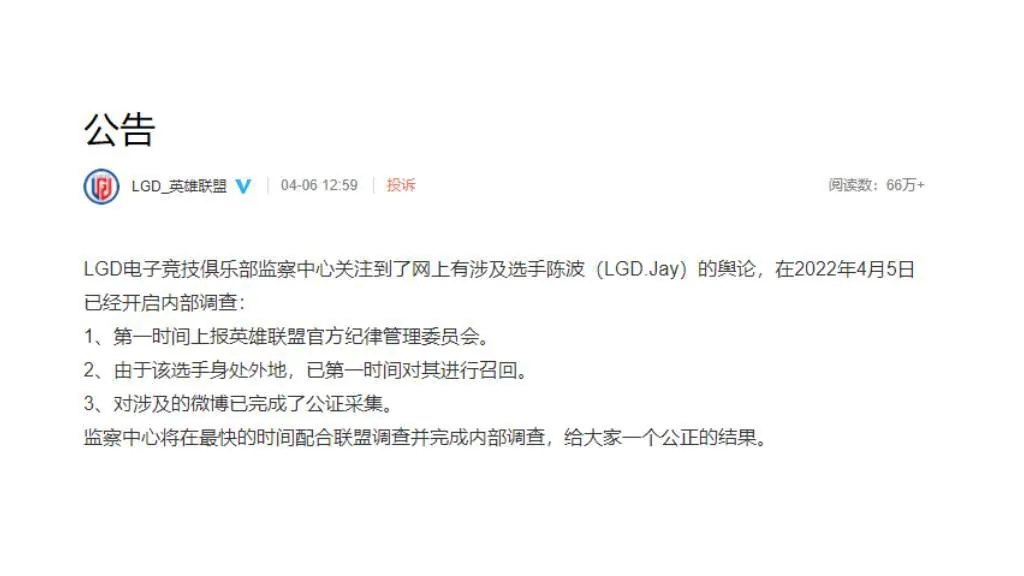 According to the leaked message screenshots, someone alleged to be Jay can be seen asking when he would receive his money. An unknown party then replied that he would receive his payment "after the second match".
The messages go on to say that the mid laner will receive his payment as long as he "succeeds". While there was no explicit mention of throwing a match, the implication was clear.
Jay also allegedly said that his teammates would help him in the task. However, no other LGD players are being investigated at the moment.
In an official statement on Weibo today, LGD said that it was aware of the match-fixing accusations and had opened an internal investigation into the player.
The Chinese organization added that it would report the incident to the LPL Disciplinary Committee "as soon as possible". And while Jay is not with the team at the moment, he has been asked to return to the team house.
LGD has passed along the incriminating evidence and also promised to cooperate with the authorities' investigations in order to ensure a "fair outcome".
This isn't the first time the LPL has been marred by a match-fixing scandal. Last year, three LPL players, including FunPlus Phoenix jungler Zhou "Bo" Yang-Bo, received temporary bans for their involvement.
That scandal reached far into the LDL as well, where a whopping 25 players, three managers, six coaches, and one assistant coach were given between a three-month and lifetime ban.
READ MORE: 2022 LPL Spring Playoffs postponed a second time due to COVID-19 situation