On January 23, T1 earned their fourth win in the LCK Spring Split 2022 by defeating Liiv SANDBOX, propelling them to joint-top place with Gen.G in the standings.
After the match, T1's 19-year-old jungler Moon "Oner" Hyeon-joon was present at the post-match press conference. Besides thanking the fans, he praised his support, Ryu "Keria" Min-seok, for his communication skills and ability to read the game.
---
---
Oner credits Keria for T1's superior macro play in the LCK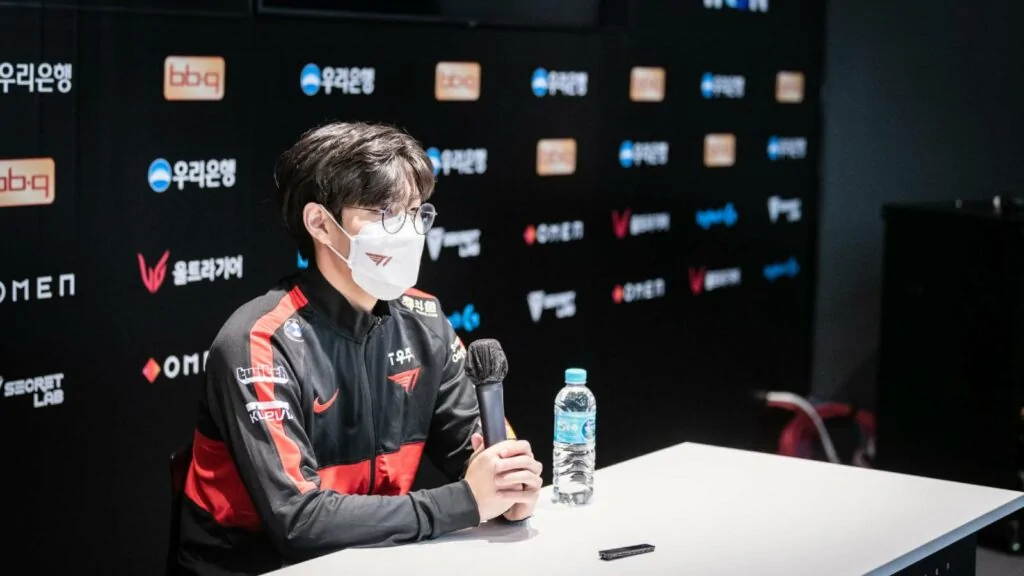 The jungler revealed that the team had focused on "figuring out Kim 'Croco' Dong-beom's jungle pathing" before the match, and that Croco's plan was to get his mid laner, Lee "Clozer" Ju-hyeon, ahead and scale.  
He also credited Keria for T1's macro game, saying "[He's] our main shot caller because he's incredibly accurate at reading the game. The result of us four following his calls has been quite stellar."
When asked about T1's ability to catch teams off guard with their lane swaps, Oner said, "Our bot duo's very strong. Because they usually have so much priority, Keria becomes free to roam around the map."  
"We make the call to lane swap when we're ahead, and the teams sometimes are unable to answer our move. We don't have a set timing for the lane swap — it's all situational. I think that's why it's tricky for our opponents," he concluded.
Oner added that T1 is doing well in scrims. "Even when we lose, it's because we're experimenting with new picks in the meta. I think that we play at about 50-60% of our scrim level in actual matches." 
Read the full transcript of the post-match press conference from Inven Global here. Watch the full T1 vs Liiv SANDBOX VOD here.
The LCK Spring Split 2022 continues, livestreamed on Twitch and YouTube every Wednesday to Sunday. Follow ONE Esports on Twitter for more League of Legends content.
READ MORE: Lehends poisons solo queue after debuting support Singed in the LCK