The LCS has a new sheriff in town.
Jackie Felling joins Riot Games as the new Head of North American League of Legends Esports and LCS Commissioner, succeeding Chris Greeley.
In her role, she will work on leading and growing the LCS product.
Previously, she was the Director of Product for the Call of Duty League with Activision Blizzard, as well as Product Lead for the Overwatch League.
---
---
Jackie Felling is the new LCS Commissioner and Head of North American League Of Legends Esports
Felling shared her thoughts about joining the LCS in a blog post and her admiration of Riot "for their dedication to players and esports".
"I want to build a league that celebrates and supports the skill of our players and teams," she said. "I believe a strong pipeline and amateur ecosystem is critical to the development of North America."
The Canadian considers Champions Queue a great start in their development plans, and looks forward to supporting pro players and teams in more ways than one.
Greeley, who's currently Riot's Head of Esports of North America and Oceania, will help get Felling acquainted with the Commissioner role in time for the Summer Split.
You can read the full blog post here.
Jackie Felling previously worked on Gears of War, Overwatch League, and Call of Duty League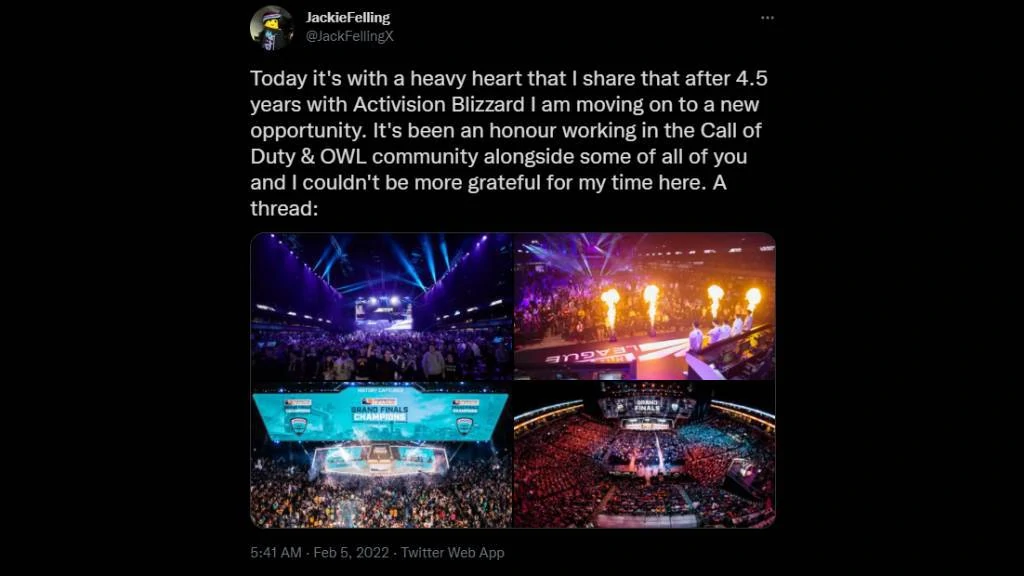 Other than Call of Duty League, Jackie was also the Product Lead for the Overwatch League and the global esports head for Gears of War, with an accumulated 16 years of experience in video games and esports.
In these roles, she handled product and creative aspects, including "look/feel, amateur LANs, partnerships, microtransactions like player signatures and community meme in-game items", according to her tweet.
READ MORE: Weibo Gaming's Angel reveals his ridiculously unique Akali build