So much has been going on with TSM over the last few months — and another key person in the organization bites the dust.
Singaporean head coach and former esports pro player Wong "Chawy" Xing Lei has mutually parted ways with the organization, which has run into financial troubles since its major sponsor, FTX, went bankrupt in November 2022. Even before this, the organization had cut down on coaching staff, leaving him as the only coach handling both academy and LCS divisions.
He first joined TSM at the start of LCS Spring 2022. Unfortunately, the roster at that time was riddled with internal problems caused by Peter Zhang's unethical practices and conflicts of interests, and all they could achieve was a ninth place finish.
They went on to surprise in LCS Summer 2022 when they not only qualified for the playoffs, but also almost defeated Evil Geniuses.
---
---
TSM fans praise Chawy for all that he's done for the League of Legends LCS team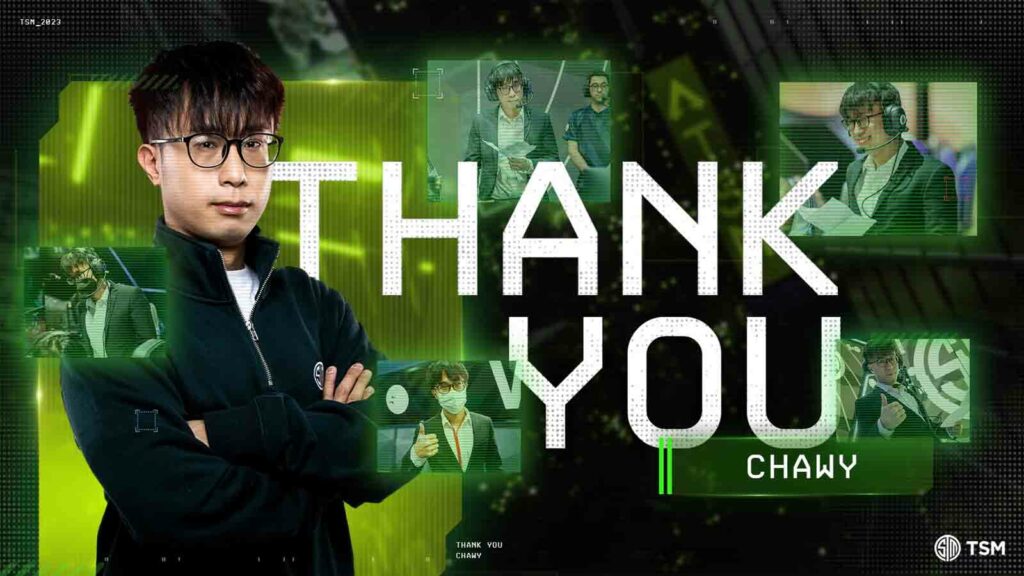 "We'd like to thank Chawy for all his hard work and dedication with us. Through the highs and lows, his passion for the game and devotion to the players were unwavering. We wish him all the best in his next chapter," TSM wrote in their announcement tweet.
While the 31-year-old has been a constant over the last one and a half years, the org's League of Legends roster was the complete opposite.
From bringing in two LDL players Zhu "Keaiduo" Xiong and Wei "Shenyi" Zi-Jie in Spring 2022, to the retirement of top laner and former SKT player Heo "Huni" Seung-hoon, to parting ways with Edward "Tactical" Ra and Mingyi "Spica" Lu, every single split fielded a different roster.
Despite this, they managed to upset FlyQuest in the first round of the LCS Summer 2022 lower bracket playoffs, and almost defeated Evil Geniuses in Round 2. Losing 3-2, they were praised for a good showing despite the odds.
---
---
After yet another roster shuffle during LCS Spring 2023 which brought in jungler Lee "Bugi" Seong-yeop and moved Jason "WildTurtle" Tran from academy, the team eventually finished seventh in the regular season, barely missing out on playoffs.
TSM is the third organization Chawy joined as a head coach in his post-retirement career. In his first year as coach in 2019, he led HKA from 5th place in the League of Legends Master Series (LMS) in Spring, to 3rd place in Summer, to winning the Worlds qualifier, to making it past Play-ins as LMS's 3rd seed, and finally, to the Group Stage at the World Championship. He then coached Falkol for one split in 2020 before going back to HK Attitude in 2021.
His highlight of his career as a mid laner was with ahq eSports Club where he faced off against Lee "Faker" Sang-hyeok at Worlds 2017 in a Syndra versus Fizz matchup.
He is now looking for new coaching opportunities across all regions.
READ MORE: Rekkles will reportedly debut as support in LEC Summer — but you won't be seeing him in Fnatic