TSM has terminated its contract with Peter Zhang, the head of development. The North American organization, it announced on Saturday citing "very serious allegations of conflict of interest and unethical practices".
The sudden announcement and wording led fans to believe that Zhang was involved in match fixing or betting on his own team, but LCS commissioner Jackie Felling has clarified that this wasn't the case.
Sources later revealed to Dexerto that Zhang had reportedly "used his coaching position for self-enrichment" by taking money after ensuring that certain Taiwanese or Chinese players were added to the roster.
---
TSM terminates contract of Peter Zhang due to conflicts of interest and unethical practices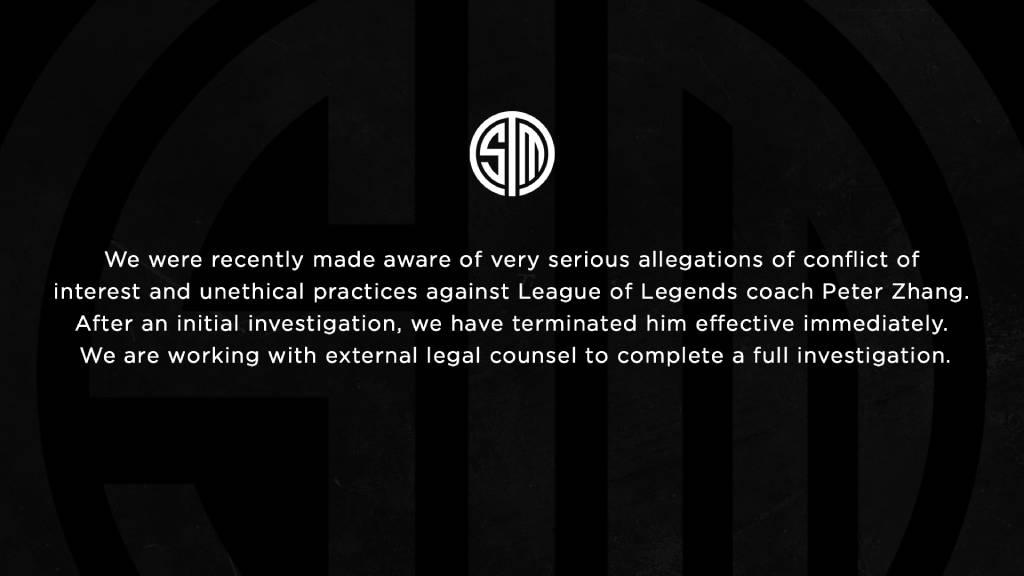 "We were recently made aware of very serious allegations," TSM said in the announcement. It also said that it is currently completing a full investigation with "external legal counsel", without elaborating on the reasons for Peter Zhang's contract termination.
LCS commissioner Jackie Felling wrote on Reddit that it was an internal team matter, and that the firing had nothing to do with match fixing or betting.
According to a report by Dexerto, Zhang had allegedly acted as an agent while also being a coach at TSM to secure Chinese and Taiwanese players on the roster. Once the deal was made, he would reportedly "take a cut" of the players' earnings.
A source also told Dexerto that Peter Zhang had borrowed "significant sums of money" from many people at TSM, including players from both main and academy rosters. However, "almost all the money has been recouped", according to the report.
---
---
Peter Zhang denies being a player agent
Zhang told Dexerto that the allegations were "either a misunderstanding or malicious framing" of what happened. He denied being a player agent, explaining that money from academy player Wang "Yursan" Sheng-yu's salary was indeed going to his account, but not because he was taking a cut.
Instead, he said it was to facilitate transfers to Yursan's actual agent. The reason for this was because he holds a US Green Card, and could transfer money more easily.
As for the loans, Zhang said he asked for money because of complications involving an incident where he helped former TSM support "Hu "SwordArt" Shuo-Chieh sell off a car, but kept the money instead of returning it to him due to a family emergency.
Because Zhang had already spent the money on his grandmother's surgery, he turned to borrowing after SwordArt said he'd "go public about the debt".
"I recognize that keeping the money was wrong," he told Dexerto. "But I was working towards paying that debt and paid half before I was fired." He also promised to pay the debt back in full.
Additionally, Zhang said that he is open to work with Riot's investigations, and had evidence to prove his innocence.
You can read the full Dexerto report here.
READ MORE: Olleh thinks pros aren't grinding in Champions Queue, Peter Dun disagrees